Championees! Championees!

London Hibs win the APFSCIL League

"Two In A Row!"
London Hibs football team wrapped up the APFSCIL League with 3 games left to play! The decisive result was a hard fought 5-3 victory over nearest rivals Middlesbrough 3-2 on Sunday. Report...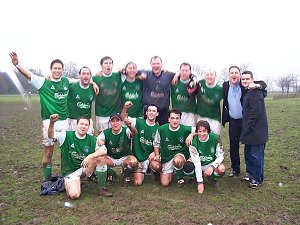 London Hibs celebrate winning the APFSCIL League Division 1 2000/2001
The blurred players are the ones who were jumping up and down at the time!