Venue: The best one in the league, the civil service sports ground

Team

Bryn Thomas 8.5
Jim McPherson 8.5
Kevin Ford 8.5 Rob Ruth 8.5 Leon Ashford 8.5
Neil Henty 8.5 Russell Stinson 8.5 Adam Pomaro 8.5 Al Harper 8.5
Grant Ross 8.5 David Drysdale 8.5
Substitute:

Scot Drummond (for Bryn who then moved up front and David came off) 8.5
Simon Hibbitt (for Leon Ashford) 8.5
John Stevenson (for Al Harper) 8.5

Management: David Lawlor
Supporter: Kevin Robertson
Press: Mike Inglis

Match View:

This was no advert for football this, it was BORING! Bristol's team bore no resemblance to that we played earlier in the season.
This reflected their impending relegation after some strict interpretation of the rules by Man U. They were stronger yet they had not a single attack of any substance on our goal for the full 90 minutes, even with our change of keeper.

The whole attack from Bristol consisted of launching it to our back, which then simply mopped up time and time again; I guess MOM could be split between Rob; Jim; Kev and Leon. In midfield we snuffed out any space they had.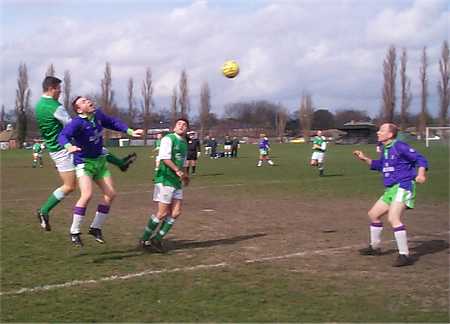 Goalmouth action

We moved forward in wave after wave of attack. The first one to come close was Leon Ashford, recently converted to scoring goals and using his head, he headed over from outside the penalty spot. There will surely be more of this to come in future.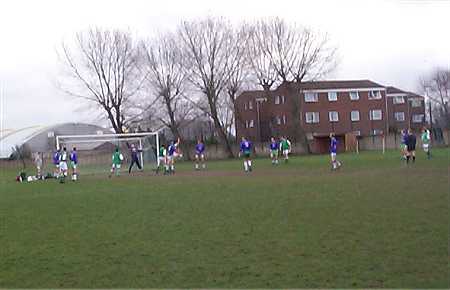 Leon Ashford heads over the bar

Grant Ross pace and the midfield creativity eventually saw the ball being taken into the box on the left and resulting shot from Grant parried for a corner. This was taken by Adsyp with a scramble and the ball breaking clear to a Hibs player to score [Mike Inglis please alter this with your copious notes on who actually finished it] [Mike Inglis here - this proves I'll never make a professional football photographer cos I missed it - sorry, but see below for second goal!] Chances flowed again with little or no action from Bristol that wasn't played straight back against them.

Adam Pomaro decided to beat half the Bristol team from the centre circle; he rode every challenge and was in an ideal position to lay off to Dave "Samson" Drysdale, so instead he tried to beat another player. He again tried five minutes later with the same effect - zilch. Ultimately the second goal came when a wonderfully weighted pass found Grant Ross in acres advancing on the goalie's right and drilling home. 2-0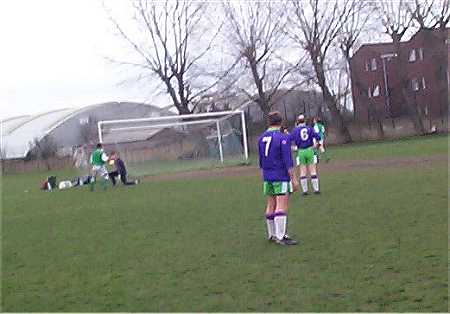 Grant Ross scores London Hibs second goal
Shortly afterward David Drysdale was responsible for a move that had the support press corp. manager and subs gaping in admiration and disbelief. I cannot do it justice really. On the left flank David beat two Bristol players so completely without breaking his run or altering his path. Wonderful stuff and enough to make up for the rest of the game.

Neil and Russell were ferocious a determined in midfield making tackles that others would have missed. The flashes of skill from Adam and Genius from David however only occasionally alleviated it.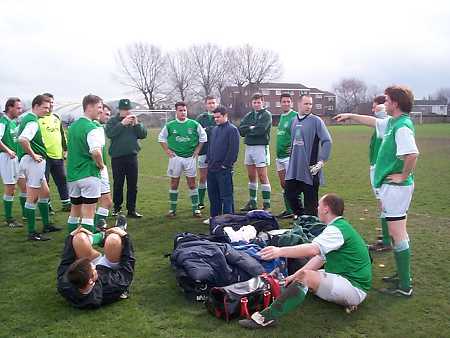 Half Time 2-0
Of course with the wind and slight slope in our favour we did pretty much everything but score. Bristol's forays were even less convincing than the first half, this meant that Jim and Rob got more involved in the attacking play. The substitutions altered the play not at all, but it was great to see our original goalkeeper keep watch on our fortunes between the posts once again. Yes Scot Drummond was back and he had one and one thing only to do and he did it well. Simon had one of the best second half chances but instead of heading in he tried to control and shoot. The Bristol defence mopped this up. John Stevenson was only on for two minutes, but I think he did get a kick of the ball;-))


I really am experiencing end of season blues; this is not helped by the utterly poor performance of the mighty Hibees up the road. As per usual it seems our opponents told me after the game that they firmly believed with their full team out they would have beaten us. You got to admire their verbal audacity, as it was they never walked their talk.

This was an important result it leaves PLAYED 15 WON 15 POINTS 45 leaving us one game remaining

Well Done

Kevin Robertson
President London Hibernian Football Club
I thought about including the photo below in a web "Spot The Ball" Competition but nobody would have got it right (apart from those in the wall who could see it sail miles past their carefully arranged defence.) Instead, using the latest high tech graphics nicked from Andy Gray's gadgets at SKY Sports, I can show you the exact trajectory of this pitiful free kick from the Bristol City number 9 (with apologies to said centre forward, who got absolute pelters from the assembled London Hibs fans)
Mike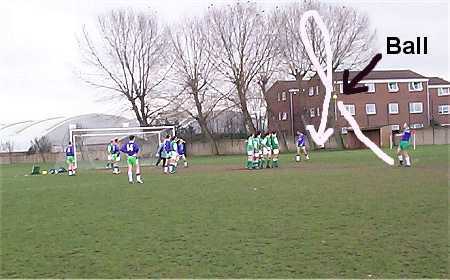 Bristol City players look dejected as a free kick is wasted