London Hibs Football Team made a major signing this weekend (28/1/01) when ex Hibs Manager Jim Duffy agreed to play for the current leaders of APFSCIL League Division 1. He made his successful debut in the top of the table clash against Middlesbrough at Barn Elms Park on Sunday 28/1/01 when, in a closely fought encounter London Hibs stretched their lead at the top of the league to 9 points with a 1-0 victory over the second placed team Middlesbrough.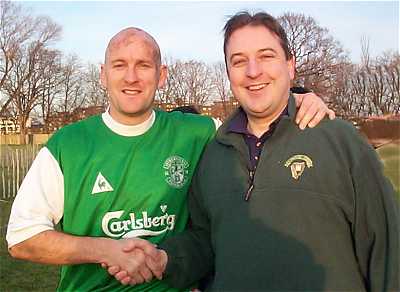 Team Manager Kevin Robertson congratulates London Hibs latest signing

Unfortunately, Jim won't be able to play many (if any) games for London Hibs as he has joined new Portsmouth Manager Graham Rix as his assistant.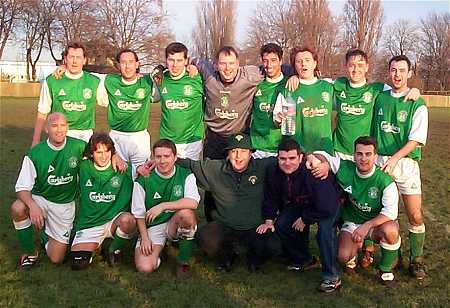 The victorious London Hibs team which defeated Middlesbrough 1-0
The winner was scored by David Drysdale, back row 3rd from right
Match Report
Venue: Barn Elms
Team
John Leslie (9.5)
Simon Hibbitt (9) Robert Ruth (9.5) Jim McPherson (9.75) Leon Ashford(9.25)
Jim Duffy (9.25) Adam Pomaro (9.25) David Drysdale (9.25) Neil Henty (9.25)
Grant Ross (9.25) Gerry Vavasour (9.25)
Substitutes:
Al Harper (for Simon Hibbitt) 9.25
Scorer
David Drysdale (one on one a drilled home)
Match Review
This for me was the crunch game of our season, Middlesboro were tucked in nicely behind us with only one defeat and games in hand over us. They were quietly confident, when haven't they been. Adam Dave and I like playing Nigel and the other Boro lad that come to the meetings. You are guaranteed tough but fair games. The Boro team is on the whole a big physical team, perhaps not as good on the ball as us.
The game itself was a tight match with chances few and far between, there big centres mopped up most of the aerial balls, knocking them back to our midfield ably marshalled by Adam and former Hibs manager Jim Duffy.
Gerry V's match fitness is still not 100% but his running off the ball created chances early on; their reliance on defence and sitting deep would've prevailed with lesser teams. We however had the attacking ingenuity to open up their big rigid defence and it happened early on within ten minutes. Gerry V, threading a ball through to a level David Drysdale, who stroked the ball, passed their otherwise excellent keeper.
The Boro team were weakened with the loss of their dynamic and skilful manager – whom I think is a TIT, his absence showed. They continued to sit deep, with minimal support for their occasional forays forward. Jim Duffy did well in defence making a couple of critical defensive headers. This game however was mainly focussed between the two 18 yard boxes with very little happening in them. John Leslie when challenged was more than able to deal with the resulting shot. Gerry V and Grant Ross had a few chances in the second half, but they were knocked wide. Perhaps the best one fell to Grant Ross, with the ball somehow magically sticking to his boot and giving him a chance, but not enough of one. The only real highlights of the game were:
The massive support for this critical game against our nearest rivals and a beautiful support it was too!"

Dave Drysdale lone goal, separating the teams

The debut of the former Hibs manager Jim Duffy, who played the previous week in front of 50,000 people – awesome contrast but a solid performance all the same.
Man of the Match
Jim McPherson, this clearly reflects the balance of play as the midfield was pretty much missed out in a less than attractive match to watch.
Summary
They are the best team we have played to date and their position is a guide to their quality, they missed the influence of their talismanic Captain, but we have a very weakened team with Leigh and Russell off on jollies elsewhere, our next game should be more of a test against them when both sides are at full strength, still it's another victory;-))
Well Done
Kevin Robertson
President London Hibs Football Team