October Meeting
Although there were no new members amongst the 23 who turned up at the William Wallace for our October gathering we held a very positive and upbeat meeting despite the regular updates we received from Kilmarnock as Hibs, once again, made an early exit from the league cup. Craig Bennison was unable to attend the meeting, which meant that it was necessary to postpone the quiz that we had planned until the November meeting! Apologies were received from Stuart Donald and Craig Bennison,
POTY Presentation
The club held a very successful Player of the Year evening on Saturday 23rd October following the 5 star performance against Dundee in which we annihilated them 5-2.
The evening was very well attended with us selling just over 160 tickets to our members, their friends and families. There was also an excellent turnout from the club with over 30 guests, including the Chairman, the Manager, and the Assistant Manager and around 10 players coming along to watch the presentation. Although Jimmy O'Rourke and Joe Baker were unable to attend the evening, there were a couple of ex Hibs players there also, with Pat Stanton and Alex McGhee honouring our company.
During some short speeches, the Chairman thanked the club for our support and said that the next time we held our Player of the Year Presentation at Easter Road, the stadium would look a lot different to how it looks at present as they will be starting work on the new stand before the end of the season.
As there had been some negative reports in the press the week before following a 'private conversation' between the manager and Russell, we asked Alex McLeish to present Russell with his award. Alex said to Russell "If you are not too tired from all that defending you've done today (the alleged criticism from Alex), then can you come out here and collect your award". Russell responded by "promising to do a lot more defending in future" which went down well with everyone as he had just scored two goals and received the man of the match award. For a full report on the evening with pictures, click here
Thanks to the generosity of everyone who attended the evening, we made a profit of just over £250 from the raffle during the evening. This money will be donated to Hibs 2000 at the end of this month.
We are still on the lookout for suitable items to go into the first fanzine of the season, so if you have anything that you would like included, then can you please send them to me or bring them along to the November meeting.
ERIN Community Trust – Update
Over the last 5 months or so we have kept you up to date with activities around an initiative by Hibs Supporters to generate extra income for our club through the ERIN Community Trust. As you will see from the enclosed newsletter (apologies if you have it already) the trust has picked up quite a bit of momentum over the last few months with some well known names on the committee and a Forum planned at Easter Road on Thursday 11 November.
The trust now has 3 paid up members of London Hibs on its committee and we believe it is exactly the kind of thing that ex pat Hibs supporters should be giving our full support to. As the majority of us live over 400 miles away from Edinburgh and unable to generate income with the club by attending all Hibs games at Easter Road, (my apologies to those members who do), this initiative will give us the opportunity to send money to the club, safe in the knowledge that it will be controlled by an organised committee, and that it will be spent on the things that we, the supporters, believe are important! If you would like further information on the Trust or if you would like to register, then please call the hotline on 01501 762848 which is open between 7am – 7pm each day or check out the web pages at www.hibs.net
Merchandise
A number of people have asked if the club could purchase some more of the Green fleece tops which proved very popular with our members last year. The answer to this questions is of course yes, but in order for our club to get hold of them for the same price that we paid last year, it will be necessary for us to place a minimum order of 60 items. To date, I have firm orders for 25, but as the club still has approximately £800 worth of stock in T-shirts on our books, I'm afraid it will be necessary to have firm orders for at least 40 of these tops before we can place an order. The tops will cost our member's £25 each but, as you will see from the enclosed picture, not only do they look quite smart, I can assure you that they are very effective in the cold weather. The fleece tops come in medium, large and extra large.
With Christmas fast approaching why not treat your friends and family to one of our smart London Hibs V-neck T-shirts. Although the weather may not be appropriate for these shirts at the moment, they are real quality items and excellent value for money at £8 each or two for £15. If you would like to place an order for any of the above items then please complete the enclosed form and return it to me at the address shown.
Can I remind you that any profits made from selling London Hibs merchandise goes a long way to subsidising other activities that our club participates in. Our merchandise also helps raise the profile of Hibs down south and of London Hibs in Edinburgh. These T-shirts come in medium, large and extra large.
Future Meetings
As the Holyrood is still in the process of being refurbished, we will be holding our November and December gatherings in the William Wallace Pub at the usual time on Tuesday 9 November and Tuesday 14 December. If, following its refurbishment, we find that the Holyrood is still suitable for our gatherings, then we will return there in the New Year. For those members who were not at the last meeting, the William Wallace is in Blandford Street, which is just off Baker St.
Following the formal part of the meeting on Tuesday, we will have another go at holding the Hibs quiz that has been prepared by Craig Bennison. Good prizes will be awarded to the winners so please get out your old Hibs books over the weekend and do a bit of swatting up.
Pool Challenge. Congratulations to Grant Ramsay, Andrew Murray, John Smith and Graeme Walker who were part of the London Hibs team that beat London Hearts in a Pool challenge match last month. The final score was 5-4 to Hibs but considering this is the only activity that the Hearts supporters club participates in, this is an impressive result and is the 2nd time we have taken up their challenge and beaten them.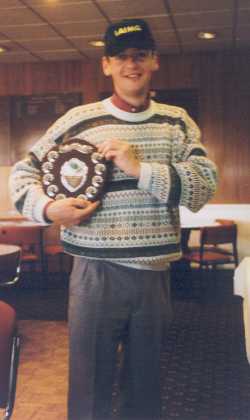 Hibs U21/Ladies Teams
Since the September newsletter was dispatched, the U21 team has played a further 3 games in their league beating Motherwell and Dundee United and drawing against Dundee at Dens Park The team is now 8 points clear of Motherwell, 10 points in front of Rangers and 12 points ahead of Hearts who are in 5th position!
As you will see from the amusing press clipping enclosed (apologies to those who have already seen it) our ladies team went through to the next round of the Scottish Ladies League Cup after beating Hearts for the 2nd time this season. The Hibs team is currently in 2nd place in their league behind Stenhousemuir, but 6 points ahead of Glasgow City and a magical 7 points ahead of Hearts!
London Hibs Golf Challenge
Our thanks to Alex Lindsay for organising a very enjoyable London Hibs Golf Challenge at the Laing sports centre on Tuesday 19 October. The competition was won by Graeme Walker with Pete Mahedy coming a very close 2nd. Both players received a prize, which was donated by Alex Lindsay, and Graeme was presented with the Jimmy Lindsay memorial trophy, which as I mentioned in the last newsletter, will be played for on an annual basis. It is great days out like this that helps make our supporters club very special so please make every effort to attend and support such events in the future.
The Hibs Badge Debate – Your views please
Over the last few months, Hibs have been running a competition for supporters to come up with a design for a new club badge to replace the current Planet Saturn badge. A panel of judges, led by Hibs Chairman Malcolm McPherson, has chosen the six finalists, which are enclosed for you to have a look at. Hibs fans throughout the world have now been invited to write to the club and tell them which design they prefer - and give their reasons why. The winning design will be professionally produced to become the new club badge. If you have a view on this then please write directly to Hibs at the following address: Hibs Badge, Hibernian Football Club, 12 Albion Place, EDINBURGH EH7 5QG or if you have access to the internet you can e-mail your comments to [email protected]
Trip to Ireland
At the club's AGM in June it was suggested by Andy Bell that London Hibs mark the 125th anniversary of Hibernian with a trip to Co Limerick to visit the birthplace of Canon Joseph Hannan, who as you know played a key part in founding the great football club that we support. Everyone present at the meeting felt that this was a brilliant idea resulting in Andy being sent away to find out a bit more and come back with a date, costs, programme etc.
Andy has spent quite a bit of time looking into this trip and has come back with a provisional proposal. Although no details are yet confirmed, it is planned to leave the UK at lunchtime on Friday 4 August and return late afternoon on Sunday 6 August. During the two full days in Ireland we will be organising a round of golf, a football game involving the local Guarda and one or two other activities which will no doubt include the consumption of gallons of Guiness. The cost for the 3-day, 2-night trip will be approximately £230. This includes return flights from Gatwick to Shannon Airport, accommodation in a 3 star hotel with modern facilities (including swimming pool), and breakfast.
Even though the dates fall in the middle of school holidays, we believe this will be a very popular trip with our members. However, if we are to secure the above costs, it will be necessary for you to confirm the trip with Andy Bell and let him have a deposit of £50 by the end of November..
Football Team
Since the last newsletter was distributed, the football team have knocked Middlesboro out of the APFSCIL cup by 4 goals to 3 in extra time, hammered last seasons champions Eire 3-1, and sent Bradford City packing with a 8-0 thrashing. These results put the team joint top of the APFSCIL 1st Division above the likes of Manchester United and Rangers.
The football team continues to be well organised and does a good job promoting Hibernian FC with other supporters clubs in the South; so well done to everyone in the team and to those involved with the organisation of fixtures etc. The next big match will be against Rangers on Sunday 21st November in the APSCIL cup. The game will be held at Hurlingham Park Fulham and will kick off at 2pm. I'm sure you'll agree that the team deserves our full support at this game, so can you please make every effort to go along an cheer them on – based on their current form, I feel they have a very good chance of knocking out the only other Scottish team represented in the league so it could be a day to remember!. For further information on the football team, see the Football Team Pages.
Burns Night Supper
Next year's Burns Night supper will take place on Saturday 22 January in Central London. The exact location for the function has not yet been agreed but we would expect it to take place in the Holyrood with the format for the evening being similar to what we have done in previous years. As most of you know, this is the main social event for the club in London each year so please put the date in your diary, encourage friends and family to do likewise and await further information on the evening in the December newsletter.
Following on from Joe Baker as our Guest of honour last year and the great Paddy Stanton this year, we were not sure who we could invite that would be able to match the appeal of these two 'Hibs legends'. Well I believe that we have managed this as we are pleased to announce that Eddie Turnbull, a man who gave almost 30 committed years to Hibernian as a player in arguably the most successful Hibs Team ever and as a manager throughout one of our most successful periods has agreed to come down from Edinburgh for the weekend. Tickets will go on sale in December once the venue has been confirmed.
Guess the Score Competition
Here is an update on our clubs competition to predict Hibs results throughout the season. This table includes games up to and including the Dundee United game last weekend. At the end of the 2nd quarter, a prize will be awarded to the person who has picked up the most points during the period, and at the end of the season, the person with the most points over all 4 quarters will receive the top award of £30 in vouchers for the Hibs shop. The members competition and the competition open to internet users is updated weekly here
Name

2nd Qtr

Total

Points

Name

2nd Qtr

Total

Points

Name

2nd Qtr

Total

Points

Pat McKinney

11

28

John Burgess

9

12

Mike Hennessy

6

12

Paul Flynn

9

29

Iain Tully

8

22

Iain MacKenzie

6

13

Morton Love

9

26

Dave Livingstone

6

22

Gavin Watson

6

12

Dominic Crolla

9

23

Les Rennie

6

20

Gerry Docherty

6

9

Scot Drummond

9

23

Jimmy Wallace

6

17

Dave McBain

5

16

Ian McKenzie

9

23

Tony Connor

6

16

John Campbell

3

16

John Ewan

9

23

Tony Coppola

6

15

Stuart Donald

3

14

Steve Murphy

9

21

Fraser Pettigrew

6

15

Kevin Fitzimons

3

11

Mike Inglis

9

20

Kevin Robertson

6

15

Craig Bennison

3

9

Mark Smith

9

20

David Smith

6

14

Pete Mahedy

9

17

Richard Turnbull

6

14
Travel to the Scotland game
If anyone is looking for a lift to/from the Scotland game next weekend then please contact Andy Bell. Email Mike Inglis or Mike McSherry for his telephone no. Andy will leave London on the Friday evening, returning on the Sunday and has a spare seat or 3 in his car.
Club Secretary