The AGM on Saturday 19th June was chaired by the club's Deputy Chairman, Stuart Donald, who started by welcoming everyone along to the meeting. There was a very impressive 42 members in attendance throughout the afternoon which we believe is a record attendance for any London Hibs meeting. Apologies were received from Brian Rogan, Tony Connor, Kevin Robertson, Mike Hennessy, Peter Mahedy, Martin Longland and Iain Tully who for various reasons were unable to attend. We welcomed 3 new members along to their first meeting; Roy Lawrie, Eric McMillan and Ian Mckenzie and it was good to see some old faces that we haven't seen for a while; Alex and Tracy McGregg and Dave Jackson. There was an almost full turnout from the Smith family with Mark, David and Ian in attendance throughout the day and Mum, Maureen, making a guest appearance to watch the video later in the afternoon. I believe the only member not present was sister and fanzine contributor, Carole-Marie. Committee

As there were no volunteers or nominations to take over any of the current positions, the committee for the new season will remain as follows: Chairman: Brian Rogan, Deputy Chairman: Stuart Donald, Secretary: Mike McSherry, Treasurer: Andrew Murray, APFSCIL Member: Grant Ramsay, Football team: Kevin Robertson, Web: Mike Inglis and Fanzine: Mike McSherry. The club's friendly Barrister, Craig Bennison, volunteered to look after the club's social events in the new season but there were no volunteers to take over the new post as Travel Co-ordinator. Therefore, the current committee will continue to look after this role until the post is filled.

Finances Our Treasurer, Andrew Murray, once again gave an excellent report on the club's finances over the last 12 months, and we had a successful 12 months with a record turnover of over £7,500. If anyone has any questions regarding the club's finances, then please contact Andrew who will be more than happy to answer them. Summary of the 1998/99 season

At the beginning of the season, the committees were determined that our short stay in the 1st Division would not dampen the spirits of our club and we were committed to taking London Hibs forward, as we have done in previous years. At our first meeting, following the home defeat against Stranraer, this seemed an impossible task but with help from some great results on the park, and the on-going commitment from a number of our members, we can look back on last season as a thoroughly record breaking year, not only at Easter Road, but for London Hibs also. As I have mentioned already, we have had a record turnover of funds with over £7,500, we have had a record number of new members (22) joining the club, we produced 2 fanzines selling a record 1,700 copies and purchased and sold over £2,000 worth of new merchandise. Not bad for a 1st Division team!

The football team also finished in a record position - 4th in the first division ahead of Rangers, the only other Scottish team in all 3 leagues. With help from Mike Inglis and Stuart Crowther, we have created our own Web pages allowing us to promote our supporters' club to Hibs fans all over the world - we are now one of the few supporters clubs of any team, and certainly the only Hibs Supporters' Club with a presence on the Web. Our social events have been very successful also. In November we had an enjoyable Player of the Year Presentation (even though the game was cancelled) and a well attended St Andrew's evening organised by the football team. In January we held another excellent Burns Night where we had Pat Stanton down in London as our guest of honour. All in all, a fantastic year and we look forward to the new season where we hope to break even more records. Football Team

As Kevin Robertson was unable to attend the meeting, Grant Ramsay gave an overview of the club's successful activities last season. Kevin will continue to run the football team next season, so if there is any of our members who may be interested in playing for the team, then they should contact Kevin or Grant.

Web Site

Mike Inglis talked about our Web site and some ideas that he has for improving this facility next season. Over the last 6 weeks we have had just under 600 visitors to our site from all over the world resulting in 4 new members joining the club and us selling quite a bit of merchandise. We have also received numerous requests for more information on the club's activities.

Whilst we recognise that not all of our members have access to the Web, there is no doubt that this service is proving to be very useful, and is a fantastic way of promoting the club and communicating with our members who do have access. To encourage people to re-visit our pages, it is important that our news is updated regularly so if any member has any snippets of information that they think we could use, then please send them to Mike Inglis or call him and discuss them with him.. Fanzine

Although I am prepared to continue editing the fanzine into the new season, I would be very grateful if someone else could take over for a season or two!!

Should a volunteer not be forthcoming, then I will continue for one more year and will commit to producing 2 issues in the new season; the first of which will go on sale during the first quarter of the season. In order to achieve we will be setting up a small fanzine committee made up of 3 members, Ian McKenzie, Mike Inglis and myself, to make this task a little easier. If anyone else would like to help out then please give me a call. New Merchandise

In the last 6 months we have sold 48 London Hibs fleece jackets, 40 Polo Shirts and 35 Coach jackets which raised a small profit for the club. In December it was necessary for the committee to commit just over £1700 to purchase this merchandise, which we all felt at the time was a bit of a gamble. However, these concerns were short lived as we very quickly recovered what we spent and have now sold almost everything we purchased. My thanks, on behalf of the club, to everyone who purchased these items and apologies to those who we were unable to supply.

As you can see from the photograph, our 'summer collection' has been launched with a very smart and trendy V-neck bright yellow T-shirt with the London Hibs logo on the left breast. We have already sold 26 of them at the AGM but we have plenty more still to sell, so if you are interested in purchasing one or two, then can you please complete the enclosed form and return it to me. The Shirts cost £8 each or you can buy 2 for £15. As always, these items are excellent quality and will make a first class present for any Hibby family or friends that you are trying to impress.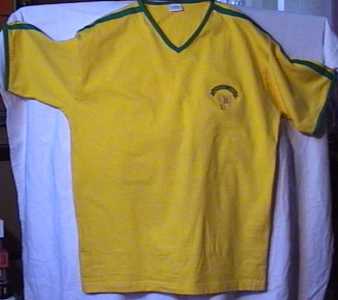 Player of the Year

Russell Latapy was the clear winner of the 98/99 season Player of the Year Presentation. Russell received 131 points, followed by Mixu Paatelainen with 65 and Ole Gottskalksson in 3rd position with 30 points. Pat McGinlay followed Oli with Steve Crawford, Shaun Dennis, Paul Lovering, John Hughes, Justin Skinner and Paul Hartley also picking up some votes. Although Russell eventually won by the length of Leith Walk, this year's vote was a lot more interesting with 11 players picking up points. In previous years, we have had great difficulty thinking of a suitable 3rd nomination!

T

he presentation will probably take place in Edinburgh on Saturday 23 October. Our new entertainment man, Craig Bennison, will give details of the presentation in the July Newsletter, but we have reserved the Almond Suite at Easter Road for an evening function where we hope to sell over 150 tickets. We will also be inviting the Chairman, Alex McLeish some of the current squad and a few ex players along so if you only ever make it to one game a season, then try and make it this one as we will certainly have an excellent night lined up. Plans for the New Season

As we enter into London Hibs 10th season, it is the committee's intention to continue on a positive note by retaining our current membership and encouraging new members to join the club.

Although the main purpose of London Hibs is to form a focal point for Hibs supporters in the south of England to meet on a regular basis to discuss all things Hibs, this year we are committed to increasing our funding to Easter Road in various ways. In the short term we will be renewing our 2 season tickets and 3 club 86 tickets. We will also be speaking to Hibs about the possibility of our club sponsoring a Player throughout the new season and we are also considering a regular donation to the Erin Investment Trust, but we will wait for this scheme to go live before committing anything. We are also planning to change the format of our monthly meetings slightly. Although the formal business at our gatherings must continue, we will be looking at ways of making them a little more interesting to encourage more members to come along. One idea is to invite a member of the Hibs Board or the manager down to one of the meetings during the first half of the season. We will also be considering some entertainment in the form of a Hibs quiz, Pool competition, Darts contest or maybe another Video evening to lighten things up a bit. Further details on our plans will follow in the July newsletter. On the social side, I have mentioned the Player of the Year presentation but we will also hold our annual Burns Night in London on Saturday 29 January 2000. No venue or format for this evening has been agreed yet but you will receive further details in October. The club will continue to offer the football team our full support. We would like to see the team play a more active part in other club activities so we will be discussing the best way to do this with Kevin Robertson. Subscriptions this season will remain at £10 for a single member, £5 for the first family member and £2.50 for each additional member. For anyone who is unwaged, then his or her subs will be free. In addition to a great social calendar we have planned, for your £10 subs you will receive the following: Membership of London Hibs Supporters' Club for the next 12 months, regular newsletters, 2 issues of the fanzine, membership of the Hibs Supporters Association with access to the Hibs Club and the opportunity to use the club's season tickets at a reduced rate (see enclosed). For this season only, each full member will also receive a London Hibs Metal keyring and lapel badge that would normally retail at £6.50.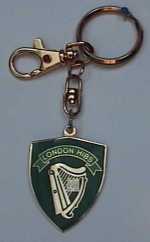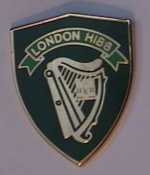 I'm sure you will agree that this is fantastic value for money so all we ask is that you complete the enclosed registration form without delay and return it with cheque to the above address. AOB Charity The club recently purchased one of Russell Latapy's international jerseys in an auction for £300 with the money going to a charity in Trinidad and Tobago for under privileged kids. Russell's mother runs the charity. It is our intention to have the strip framed and we will present it to the Hibs Supporters Club who will hopefully display in the club. There will obviously be a little plaque on the frame giving us some recognition of the presentation..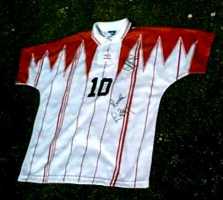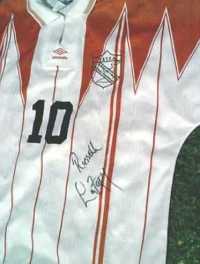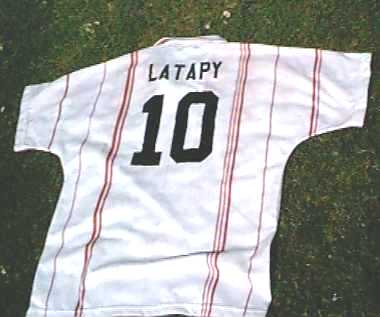 Golf Day

Although he could not make the meeting, Alex Lindsay is planning to organise a Golf Day for our members sometime in August/ September. Details will follow in the July newsletter, but as the idea received a very positive response from our members when discussed at the meeting received, it should be quite popular.

Hibs have now released the itinerary for their pre-season tour of Denmark next month. The team will fly out on the 14th July and will be based in the Copenhagen area for the duration of the tour. The first game is against Olstykke who are a Danish Second Division outfit on the 15th. The 2nd game is against First Division side Koge on Saturday 17th. The highlight of the tour is a game against AB on Tuesday 20th July. AB finished third in the Danish Super League and are currently the Danish Cup Holders. This game will be played at Melby due to work being carried out AB's ground. The final game of the tour is against non-league outfit Kornbaek on 21st July. There are a number of our members who are interested in going over to Denmark for the games so if you are considering the trip, then can you please give me a call and I will co-ordinate. Presentation

Following the meeting, we presented Sonia and Simon, who are joint managers of the Holyrood, with a small gift in appreciation for their wonderful support they have given our club over the last year.

Also, Jim Wallace won the raffle for the signed shirt.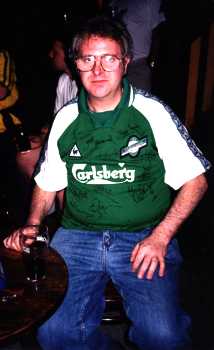 The Video

As we expected, the Hibs video proved to be a big success and was the perfect end to a very positive and upbeat meeting. Although the picture quality at times was not brilliant, it contained highlights of the following games: Hearts in 65, Utrecht, Torino, St Mirren (1959) Partick Thistle, Clyde (Scottish Cup), Belenenses, Real Madrid, St Johnstone, Rangers, Dundee United, Dundee, Celtic (Drybrough Cup Final) Airdrie, Celtic (League Cup Final) and finally goals and extended highlights from that boring day at Tynecastle in 1973.

To raise funds for the Friends and Relatives against Cancer charity, the club donated £50 worth of merchandise and we held a raffle with each member putting a named £5 note into a bucket. This in itself raised just under £220 for the charity but after each game we walked around the pub with the metal bucket asking members to off-load their loose change and donate what they thought the game had been worth. As you can imagine, the pub sounded more like an indoor 25 metre firing range following the Hearts game and we eventually gave the charity a cheque for £250, which takes our charity donations for the last 6 months up to £850! Missing Camera Ending on a bit of a sour note, could the person who picked up the digital camera that Mike Inglis was using to take photographs of the day's activities please return it to the above address. Not only is the camera quite expensive, but it is useless to anyone without the correct cables and software. It also contained some excellent photographs of our members enjoying the meeting which is why we are so keen to get it back.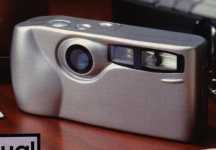 Missing Camera

Club Secretary