On Saturday 11 November 2000, London Hibs held their annual Player of the Year Presentation at Easter Road. I now hand you over to Pierre of the Paris Branch: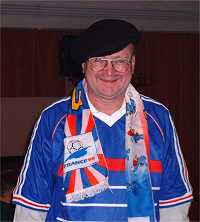 Pierre Hennessy (frere de Mike)
Pierre repeated this speech at the December meeting with Jimmy Wallace playing Franck (with apologies to the great man) - in Real Audio format (2.8mb)
Discours by Pierre, secretary, chairman, treasurer and only member of London Eebs sub branch in Paris, on zee occasion of zee POTY award to Fwonk Sauzee, Easter Road, 11/11/2000
"Allo, allo !. Bonsoir Mesdames, messieurs. I say only a few words because my eenglishis not vewy good ( comment from Rogan – " it's true !")
Eet give me great plaisir to be present as we honour Fwonky weess zee London Eebs POTY. Eet is zee pinnacle of a wonderful carriere, better maybe zan zee European Cup ! ( Fwonk non committal at zees stage !)
Ee began is carriere weess Sochaux, before ee move to Marseille, zen Monaco, Marseille encore, Atalanta, Strasbourg, Montpellier …….and in all zees places he practise very ard so zat ( Fwonk interjects wis "so zat ?" non, Sauzee !! funny ! ) he become zee feeneeshed article before being good enough to come to Eebs
Ee win 39 hats , pardon …, caps, for Fwonce, and ee score neuf goals
Ee play weess some of zee best Fwench footballers of zee last decade ; Papin…...Deschamps……Desailly……….Barthez………Cantona…….
Paatelainen – merde !!! Paatelainen ?? someone sabotage my bloody speech !!
So why ee come ere ? and why ee stay ? Ee say on zee website yesterday zat ee is een love weess Edimbourg and weess Eebs . Why ?
( You all ave to guess zee punching line before I get zere !)
Ee say ee prefer zee cold, wet and weendy wezzer ere to zee sun and zee warms of zee souss of Fwonce !
Ee say ee prefer aggeess and porreedge to foie gras and magret de canard avec un bon vin. You believe eem ??
Non, mes amis, zee reason ees more a question of chonce, of fate.
You see, Fwancky was born een Aubenas. ………..Aubenas ees in a region of Fwonce called zee Cevennes ! ………SEVEN as a special significativeness for all supporters of zee Eeebs !!……..( tumultuous applause ere..) And so you see, it was always predeterminated zat Fwoncky would end is carriere weess us !!!
Fwoncky, you already ave zee biggest compliment you could be pay, when we mention your name in zee same breass as GOD, and ee spend most of ees carriere ere, and you only 2 and a alf years so far. Alongside zeess, zee POTY ees not much, but please accept our umble award quand meme.
Mesdames, messieurs, Fwonk Sauzee !!!!! ( cheers, applause, laffter etc for several minutes )"
Copyright Pierre Hennessy ( frere of Mike ) 11/11/2000