INTERNET
Every SPL game is covered live via Real Audio. Click the link below to take you to the BBC Web Site for details of the latest games to be covered.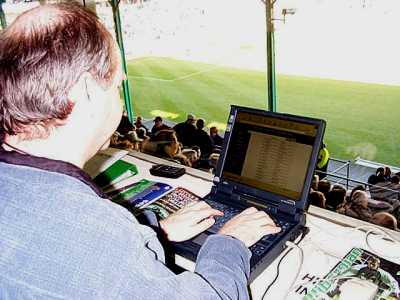 Stuart Crowther updating "ERIN Live" which used to be the only way of keeping up with live games around the world.
---
TV
For season 2004/05 Setanta have the live contract. Details here. STV and Grampian will be showing a highlights package on Monday evenings.
Now that ITV are broadcasting on SKY Digital anyone in the country can see every ITV region. That means that the ooooh so slow d-e-l-i-v-e-r-y of Jim Delahunt on Scotsport (and Archie MacPherson's "legendary" commentary) can be enjoyed anywhere in the UK.
If you have a Scottish postcode Scottish, Grampian or Border Scottish ITV can be found on channel 103 on the Programme Guide. If you get your local (English) ITV region on 103 there's a little bit of work to be done:
Press 'Services'
Now hit '4' for the 'System setup' option.....
Again, hit '4' for the 'Add channels' option.....
Now in the frequency field, enter the value "10832" (the decimal
point will locate itself automatically)
Scroll down and set the following fields to "H", "22" and "5/6" respectively......
Now scroll down and highlight 'Find Channels' and press 'Select' on the remote......
You will now get the following list:


C

arlton/

LWT

Carlton Central

Carlton Westcountry

HTV West

HTV Wales

Highlight the one you want and hit the yellow button to store it in your Digibox so it can be called up easilly any time you want......
If you want a region other than the five listed above, replace the frequencies and settings

above

with the following information:....

10891 H 22 5/6

w

ill get you access to:


A

nglia

B

order

E

ngland

B

order

S

cotland

G

ranada

M

eridian

T

yne

T

ees

Yorkshire


10906 V 22 5/6

w

ill get you access to


C

hannel

G

rampian

S

cottish

U

lster


To watch

ITV

just follow these steps......
Press the 'Services' button.....
Press '6'
Choose the channel you want to watch and press 'Select'
---
Find out when Hibs are on the telly by entering a search in the box below - I suggest you enter "Scottish Football", however it can be used for any TV programme.
Various pubs in the area show Scottish games live, (although this may not include any of the below now that the SPL is on BBC Scotland, not SKY) but if you'd like to watch with like minded Hibbies try those listed below. Phone numbers can be found on the membership list or by emailing Mike.
| | | |
| --- | --- | --- |
| | Venue | Contact |
---
Wireless Application Protocol
Always at the cutting edge of technology, London Hibs now brings you its latest news to a WAP compatible mobile phone. The address you need to put in your phone is:

http://tagtag.com/londonhibs

You can't see the site using a normal browser (eg. IE or Netscape) but if you don't have a mobile phone but would like to see what you're missing, click here for a list of WAP emulators.
There's not a lot on the site yet, mainly contact details.
---
BBC Radio Scotland (unfortunately though it's only the FM service) has finally come to SKY Digital on Channel 866 on the EPG. Off the Ball, Sportsound and all the other sports programmes you have missed can be heard. It can also be found on the Internet here.
With a good radio, (and good positioning - Dave McBain recommends on top of the Hogs Back!) and usually only from about 6pm onwards, you may pick up Radio Scotland on medium wave 810khz but it shares its frequency with a Spanish station which, confusingly, also has football commentaries. This sometimes leads to the Spanish equivalent of David Begg merging with Radio Scotland!