Strange but seemingly true –
10 reversals and paradoxes of a season of great adventure.
1. HHHT readers are probably familiar with The Proclaimers song 'Cap in hand', one small (i.e. 2) number of rock and pop songs to feature The Hibees.
"I can understand why Stranraer lie so lowly, they could save a few points if they signed up Hibs goalie"
This season Stranraer saved a few points (3 to be precise) by beating Hibs at Easter Road in the league. 2 The previously mentioned goalie continued the tradition of Goal keeper/poet-philosopher by appearing in the national press with pillars of the Scottish loyalist community and a selection of artistic UVF banners. There must be substantial bad kharma (copyright G Hoddle) at work on Andy who is currently re-incarnated/employed as the boy that picks them out of the net at Motherwell. 3. Henrik Larssen (player of the millennium, Nobel Prize for fitba etc) has scored about 200 goals this season, all of them against Dundee. A HHHT scribe spotted him with uncanny prescience back in 1992 and suggested that he would make a good signing if we had the readies -

Extract from HHHT Issue 10: 'Ideas for new signings? Your guess is as good as mine, but Lexo could do worse than turning his attentions to Villa Park. Villa have a surplus of left sided midfielders ate the moment. Henrick Larsen, currently on loan from Pisa, would probably want Italian wages, so we can forget about him'

4. Wacko Jacko the reformed radge has changed his position yet again from the 'Big boys made me be the Hearts mascot" to "Ah've always wanted to play fur the Hearts"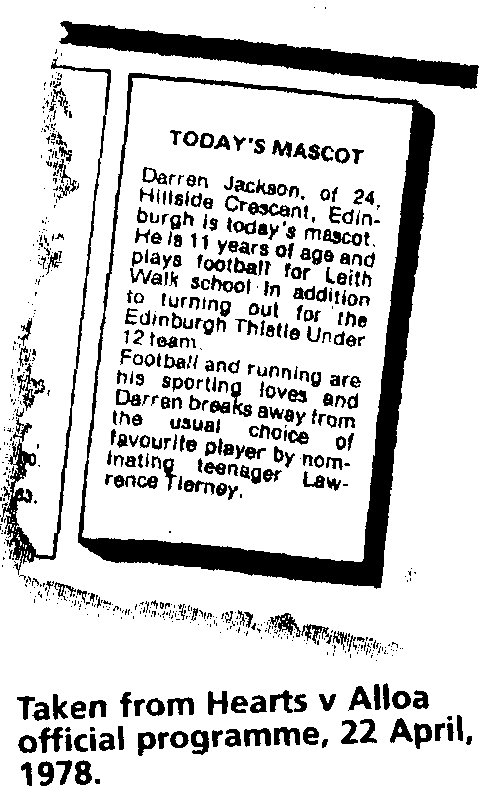 5. The 'curse of the Jacko' continues as another ex member of the Hibee "Jackson 2" (Chris) dumps us from the Scottish cup while playing for the third crappiest team in the second division – spooky. 6. Keith Wright, true Hibby that he is, scores the goal that confirms Hibs as Division champions – remarkably, he does it whilst playing for Morton. 7. Hibs fans relax after Lexo proves not to be 'the one that got away'. He fails to set the Aberdeen heather on fire and seeks alternative employment. In the 1992 Scottish Cup final (Rangers Vs Aberdeen) Alex Miller was stretchered off, the victim of one of the most bizarre self-inflicted injuries in Scottish football. There seems to be no basis to the rumour that he waited 17 years to wreak a terrible vengeance on Aberdeen. 8. In order to beat the hammer throwers of Airdrie four times in a season we had come down to their level (i.e. first division). All is not doom and gloom for Airdrie. With Gary 'centre spot' Mackay in charge, the trophy for best stadium in the second division beckons. 9. Plan: Some Hearts-minded thespians make an ill considered attempt to entertain people with a musical entitled 'Hearts glorious Hearts' (sic)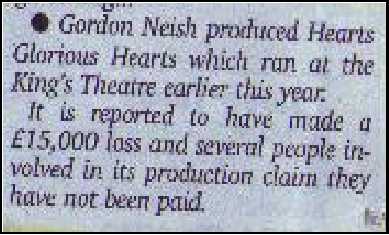 Outcome: It plays to rather unpacked houses, loses money ad allegedly the producer cannae pay the bills Art imitating life (or at least Edinburgh football) The entrepreneur behind this worthy endeavour, Mr Gordon Neish (see cutting) states without a trace of irony that "The first night the critics left with huge smiles on their faces"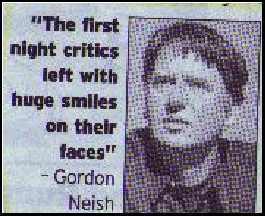 There was no mention of how far into the production they walked out!
10. At an end of season thanks to Hearts for demonstrating that rather than breaking the mould of Scottish football they are merely covered with the stuff.
Disclaimer: The views expressed in this publication do not necessarily coincide with those of the editor or of the London Hibs Supporters Club
Home
Application Archive Committee Events Fan Profiles Feedback Football Team HHHT History
Links Meetings Membership Form Merchandise Newsletters Predictions Search Tickets

Web Design and administration by Mike Inglis, (c) 1999. Web Space courtesy of Hibs.Net
Content is (c) London Hibs Supporters Club. Individual articles on this web site are the personal views of the authors concerned, and no liability is accepted by the Web Master or Editors of London Calling or Hibees Here, Hibees There. Articles, or portions of artciles, may be reproduced only after prior permission has been obtained.