In supporting Hibs down through the years, we have seen some great players (some not so great) we have watched some great games (some not so great) and the companionship and adventure shared with mutual friends leave us with some priceless memories.
The decline in quality in recent times, which culminated in the recent relegation, may turn out in our favour. Hibs will be back in the top flight next season. Hopefully, lessons will have been learned.
On a positive note, we now have a team which is now used to winning ways and must carry this mood into the new season. For the fans whose loyalty never faltered and continued to attend matches home and away all deserve credit (no, not in the boozer).
I'm sure there were some enjoyable days out to places we don't normally visit. Being based here in the south of England, I missed out this season, but I know I have some great memories of the last time we were in the first division in 1980 – 81. Peter Cormack's cracker at Stirling Albion, Berwick on New Year's Day. Alan Sneddons nightmare debut in freezing weather at Kirkcaldy and many, many more.
This time there was no real surprise as perhaps we can blame too many managerial changes in a short space of time – I guess we could say that it was coming. However it was different in 1980. In those days, there were also managerial changes, but we had a team that were robbed of a Scottish Cup win in 1979 by referee Iain Foote, who refused a stonewall penalty in the final V Rangers with a few minutes remaining as Rangers keeper McCloy took the legs away from Colin Campbell. We lost the second replay 2-3 when Arthur Duncan scored an own goal.
The following season we had great hopes for the team. Instead, Eddie Turnbull left to be replaced by Willie Ormond and old and new faces were added to the squad like John Connolly of Everton and Newcastle success, the return of Peter Cormack and Chairman Tom Hart's gamble of bringing George Best, should have been an enhancement to the cup team of the previous season.
Instead we were relegated and like this year, the team came up as champions in one season.
There were many interesting times and talking points. We lost the first game of the season 1-2 at Easter Road to Raith Rovers. Willie Ormond's stay was a short one through ill health and Bertie Auld took over. Perhaps the most controversial was the return of George Best who at one stage had been sacked, but he always brought excitement and of course, crowds.
I was a member of the Glasgow branch then and usually met up with Davie Keith from Pollock and Jackie Wilson from Cranhill to travel to games – we had great fun on the adventure but we didn't always make the last train home to Glasgow…..!.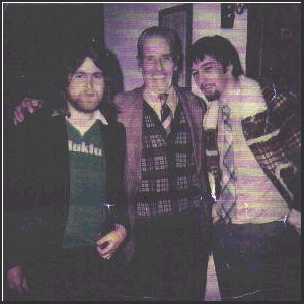 Jim Wallace, Andy Hogg and Dave Keith
When George Best came back, it transpired that his first game was a Tuesday night against Dundee at Dens Park. This was a tough one, but I decided I had to be there and phoned Davie on the Monday who at first stated that as the last train from Dundee to Glasgow would be gone by the time the match was over, he would reluctantly miss this one out. However, after some of my old happy go-lucky persuasion, we agreed to meet at Queen Street station the next day at 5 O'Clock.
The bold Georgie boy didn't let us down with some great touches and a winning goal in a 2-1 victory – but how the hell do we get home?
Those were the good old days when you could wander through the terracing and always bump into people you knew. This occurred when we met some boys from the Edinburgh West Branch who we used to drink and play pool with in the Hibs club. They at once offered us a lift back to Edinburgh on their bus – so at least we could at least catch the last train from Edinburgh. However, we somehow managed to lose them on the way back to the Bus Park so we were wondering about like lost souls (not exactly sober either) when we met the legendary Maude McFarlane who promptly secured us seats on her bus. Sorted thought us! That was until on our way out of Dundee, a brick came crashing through the bus window, resulting in the guy sitting nearest the window needing some medical attention and a real rig-marole with the local Police.
30 minutes later, having watched every other bus leave, Dave and I looked at each other with a mutual 'just our luck' expression. However, when we finally got going, wee Maude came up to us and said that she had explained the situation to the driver and he would do his best to make up the time.. The last train left the Waverley for Glasgow at 11pm and it was just after that time when the bus let us off at Haymarket, so we thanked out host and scampered down the stairs the train was at the platform. The whistle in the Station Masters mouth and in stereo we cried – 'haud oan, haud oan' – we made it.
The last game that season against Raith Rovers when we won the championship, Davie and I set out on the Friday night to walk to the game from Glasgow (Dan Fyffe's without shovels). Due to us not having a compass and an ignorance of proper directions, we walked all night and finally gave up next morning at Broxburn and caught a bus the rest of the way – the nearly men! Fair old jaunt though!
The post match celebrations were cut short as we had only a few in the 'Leerie Lamplighters' and caught the bus early to Glasgow where we at once fell asleep all the way home.
Ah, memories! I could go on, but so could we all, so hopefully in future issues, you Hibees out there will relate some of yours.