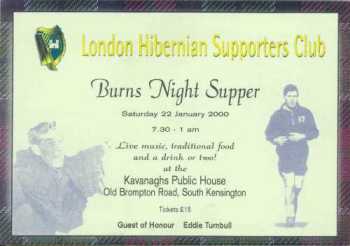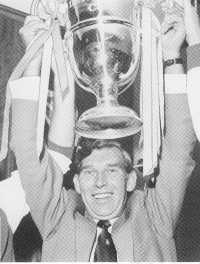 London Hibs Annual Burns Night Supper was held on Saturday 22nd January 2000 at the Kavanagh's Pub, Old Brompton Road.
Our special guest this year was former Famous Five player and manager of Hibs Eddie Turnbull.
The evening kicked off with the haggis being carried in by Rose McEwan accompanied by the traditional piper. Stuart Donald, our vice chairman then made the (not so) traditional address to the haggis, and you can

hear this in Real Audio format by clicking here(227KB)
Click below if you do not have Real Player G2 which is needed to play these files.
I will be making an audio CD version of the speeches for a contribution of £5 each (inc UK P&P). Email me for details.

Brian Rogan, our Chairman, then introduced Eddie Turnbull to the audience, giving him a glowing tribute which included reminding us of the many goals Eddie scored for Hibs, especially against the likes of Spurs and Man Utd!
Hear Brian's speech in Real Audio (507KB)
Eddie then entertained us for nearly 10 minutes with stories from the past and had some kind words to say about the club. He then presented the club with a framed set of programmes from his playing days.
I've split Eddie's speech into 3 files for ease of downloading -
Part 1 (352KB)
Part 2 (150KB)
Part 3 (713KB)
John Leslie (well known for his role as goalkeeper for London Hibs football team) then announced the raffle, and Susan Fletcher won the top prize of 2 tickets, flights and accommodation to the next Derby game.
Various Real Audio clips from John are available below -
John introduces the raffle (123KB)
John persuades Leslie Stockwell to model her prize (193KB)
John's promises that his colleague, Jenny Powell, will model her T-Shirt prize - photo here when available (109KB)
Brian Rogan wins a prize and John tells a (reasonably funny) joke (101KB)
Rose McEwan models her London Hibs fleece (129KB)
(Photo here)
Susan Fletcher wins the top prize (164KB)
Martin Longland wins a bottle of Turnbulls Tornados Malt Whisky (74KB)

Click here for the photo gallery