A good domestic season in 1973/74 saw Hibs finish second behind Celtic and that ensured a place in the 74/75 UEFA Cup for Eddie Turnbull's men. Round one of the draw took Hibs to Norway to face Rosenborg Trondheim, a side that in recent years has been a regular in the Champions League but back in the mid 70's their players were not even all full time.
With the rain pelting down and an icy wind blowing across the park only 5,000 fans turned out to watch. In the stand was Hugh Taylor of the Daily Record and in his match report he was scathing of Belgian referee Jan Detters who apparently penalised just about every Hibs tackle whilst letting the hosts away with murder.
Thankfully the match report spoke of happier things too in reporting a good 3-2 for the Scots who scored their goals through Pat Stanton, Alan Gordon and Alex Cropley. On that same night in the same tournament Rangers were humbled 3-1 at Ibrox by Southampton with the Daily Record giving the game a banner headline that read SUPERSTARS KO RANGERS' in tribute to the deadly strike force of Mick Channon and Peter Osgood. Certainly things have changed not only for Rosenborg over the years but also for Southampton.
Two weeks later Hibs hosted a crowd of 12,379 and were shocked after just 15 minutes when Iversen put the visitors ahead very much against the run of play. As it turned out Iversen had merely served to ignite Hibs and boy did they fight back with a vengeance. Four minutes after Iversen's opener Joe Harper equalised and then within sixty seconds Iain Munro had made it 2-1. Two minutes later Harper struck again and by now the floodgates were well and truly open as the hosts took their final total to nine. As well as the two from Harper, Munro also got a second whilst Pat Stanton and Alex Cropley also bagged doubles with the other being scored by Gordon. What a fantastic night and Hibs were rightly lauded for raising Scotland's tarnished record with this display.
For their efforts Hibs were 'rewarded' with a second round tie against Juventus with the first leg at Easter Road coming just a few days after Hibs had been ripped apart in losing 5-0 at Parkhead in the league. The 5-0 scoreline brought back to mind another match involving Hibs and Italian opposition when the men from Easter Road had recorded that scoreline against Napoli who had Dino Zoff in goal. Now Zoff was back, in Juventus colours and in truth there was never any chance of him conceding so many again. The Turin club were simply magnificent and dealt with Hibs' early efforts in their regimented way by defending deep. As half time approached it was still 0-0 but a defensive blunder allowed Gentile to put the visitors a goal up.
As the second half got under way it became obvious that Juve had replaced Damiani with Altafini who was now in his mid thirties but who showed such electrifying pace and speed of thought that Hibs found him almost unplayable. Amazingly however it was Hibs that scored the next goal on the hour mark through Pat Stanton and the 28,000 crowd began to think a win might be possible when six minutes later Alex Cropley made it 2-1 but step forward Altafini and those hopes were crushed. Four minutes after Cropley scored Altafini equalised and then before full time he'd set up Cuccureddu and scored again himself to make it 4-2 and give Hibs an impossible mountain to climb.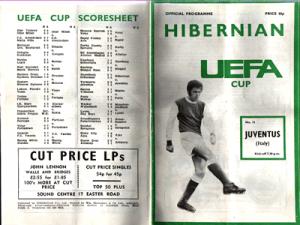 Around 35,000 fans were in the Stadium Communale in Turin for the second leg tie and they soon had reason to cheer when Bettega scored a suspiciously offside looking goal after ten minutes to make it 5-2 on aggregate but to their credit Hibs kept plugging away and tested Zoff on a few occasions. Close to the hour mark Anastasi scored a second and Hibs were finally a beaten side, losing two more goals before the end, making the final aggregate score 8-2 to Juventus.
Unlike in relatively modern times Hibs were regulars in Europe and in season 1975/76 they were once again involved in the UEFA Cup but their stay in the tournament would be short and sweet as they went out in the first round to eventual cup winners Liverpool.
The first leg took place at Easter Road with around 20,000 in the ground on a wet September evening and though only one goal was scored it was an absolute peach. Keeper McArthur rolled the ball out to Iain Munro who looked up before sending a tremendous pass to Arthur Duncan on the left. The Hibs winger sped down the flank before delivering a fantastic far post cross into the path of Joe Harper which the one time Everton man buried with relish. The one goal could so easily have been two but when Hibs got a penalty ten minutes from time John Brownlie struck the ball well enough but was denied by an outstanding save from Ray Clemence.
Ahead of the second leg tie Hibs boss Eddie Turnbull was telling anyone that would listen that his team could still progress but then arguably dented those chances by leaving inspirational captain Pat Stanton on the bench. It seemed that the manager and captain had fallen out and that left a gaping hole in the Hibs midfield which Munro tried valiantly to fill but never quite compensated for his skippers absence. On the night the difference between the teams can be summed up in two words – John Toshack. The giant Welsh striker caused havoc with his ability in the air and although Alex Edwards had equalised an early Toshack goal the big striker went on to get his first ever hat trick in Liverpool colours and in the process win the tie 3-2 for his club.
The following season it was UEFA Cup duty again and in the first round Hibs drew French opposition in Sochaux. The match would be Hibs' 59th in Europe and they celebrated that fact with a win although it was by the narrowest of margins as at the final whistle only John Brownlie's 35th minute strike separated the sides. Quite how Hibs managed only one goal is anybody's guess but I suppose it was a combination of poor finishing and inspired goalkeeping by Sochaux keeper Joel Bats. Bear in mind that although Eddie Turnbull was still in charge his Tornadoes had mostly been blown away and we Hibs fans had to watch the likes of Mike McDonald, Willie Murray, Lindsay Muir, Ally Scott and Graham Fyfe all of whom no doubt tried their best but the absence of players like Stanton, Edwards, O'Rourke and Gordon inevitably meant a poorer side.
An often tense and sometimes frustrating encounter in France two weeks later saw Hibs fight out a 0-0 draw that allowed them to progress into round two. The Scots might well have won the game but Bobby Smith could only look on in disappointment after his curling shot beat Bats but crashed back off the bar and was hacked clear. Still, progression was the name of the game and Hibs had achieved that.
Mid October saw Hibs at home in the first leg of the second round and their opponents were Swedish outfit Oesters Vaxjo, a side that Eddie Turnbull have travelled to Sweden to watch losing a league match to another of Hibs' former European adversaries Djurgaardens. With few household names in their side the Swedes relied a lot on the one player that many fans had heard of, Anders Linderoth who had been capped many times for his country.
To the surprise of many Oesters attacked Hibs from the off rather than adopting the usual defensive approach of visiting teams in Europe but the Hibs defence stood firm for the entire ninety minutes whilst two of their number, Blackley and Brownlie visited the other end of the park to score the only goals of the game.
At the beginning of November Hibs were in Sweden for the second leg, confident of going through and hoping to maintain their run of not having conceded a goal but sad to say the wheels came well and truly off the bus as the Scots were thrashed 4-1 and went out 4-3 on aggregate. Ally Scott's goal had been a good one but defensively Hibs were a shambles and that man Linderoth coaxed and cajoled his team to an unlikely victory.
Towards the end of Eddie Turnbull's managerial reign Hibs made two more appearances in the UEFA Cup with the first of those in season 1978/79. Round one gave Hibs a home first leg tie against Norrkoping, yet another Swedish side! Unlike Oesters before them however Norrkoping had numerous international players in their side and must really have fancied themselves against a Hibs outfit that was struggling to find any consistency in the domestic league.
This first leg was Hibs' 63rd European tie and if the home players and fans expected the visitors to defend they were in for a shock as the Swedes attacked at every opportunity. With injuries hitting the Hibs side Arthur Duncan was pressed into service at right back which, for a left winger was a big ask but Arthur was outstanding in the role and blameless for the two goals scored by the Swedes in the first half. Thankfully Tony Higgins was in form and hit two for Hibs whilst a Willie Temperley goal helped Hibs to a 3-2 win.
The return match a fortnight later was played on a bog of a pitch and in rain that pelted down for the entire ninety minutes but the Hibs defence, with Mike McDonald outstanding in goals, held firm and the 0-0 result took the Scots through to a second round tie against French cracks Racing Club of Strasbourg.
When the first leg tie took place in France, Strasbourg topped their First Division whilst Hibs were struggling in their own championship in Scotland. Add in the fact that Strasbourg had not lost at home for two years and had in their side five players that were in that years World Cup qualifying squad, it can be seen that the task facing Hibs was tough one. Indeed it proved too tough as the hosts won 2-0 even with a certain gentleman by the name of Raymond Domenech in their side!
When the return leg came around at Easter Road it attracted around 14,000 spectators and it has to be said that the Hibs fans were magnificent that night, singing and cheering throughout as the men in green and white put on a super show. A 64th minute penalty from Ally MacLeod ensured a thrilling last twenty five minutes but Hibs just could not get the breakthrough to take the game into extra time.
Almost unbelievably it would be ten more years before Hibs played in European competition again as domestic form was not good enough to earn that right. Now that they were in it again they faced Videoton of Hungary a club perhaps not all that well known in Scotland but they had in fact been runners up in the EUFA Cup in 1985, losing 3-1 to Real Madrid in the final. It was going to be a tough task for Hibs with the first leg at Easter Road being settled only by a single headed goal from Graham Mitchell.
For the second leg in September 1989 a fair number of Hibs fans made the journey to Hungary (including Hibs.net's very own
Spamheid
) and their trip was rewarded by a fantastic Hibs performance that saw the men from Edinburgh win 3-0 in a bad tempered match that saw the hosts getting more and more hostile as the game wore on. Keith Houchen, Gareth Evans and John Collins scored the goals that carried Hibs through on a 4-0 aggregate. Incidentally, as often happens with clubs in that part of the world Videoton changed their name, in 2005 and is now known as FC Fehervar.
Around 18,000 made their way to Easter Road for the first leg of the next round when Hibs faced Belgian outfit FC Liege, a club that had on its books a certain player by the name of Jean Marc Bosman who had not yet challenged the right for players to have freedom of movement in the transfer market but when he did, he succeeded in causing one of the most fundamental changes in football for decades. A missed penalty by Keith Houchen contributed to Hibs managing only a 0-0 draw and having to travel to Belgium hoping for a repeat of the form shown away at Videoton. Chances were made by both sides but neither could convert them in normal time and so the tie went into extra time with 2,000 or so Hibs fans doing their best to roar the Edinburgh side on. Sadly, only one goal would be scored and that came in the first period of extra time when Jean Francois de Sart hit a hopeful drive from distance and looked as stunned as everyone else in the ground when it sailed over Andy Goram's head before hitting the underside of the bar and going into the net.
**Image courtesy of hibsprogrammes.co.uk and progs.fairleyoriginal.com**