The story of two brothers, both of whom would play in the green and white of Hibernian, speak with broad Lanarkshire accents, live a mere 15 miles from Hampden, earn full International recognition and yet neither would play in the dark blue of Scotland. The lads were born thousands of miles apart with elder brother Gerry entering this world in the United States while younger brother Joe was born in Liverpool. The Fabulous Baker Boys is a stirring tale of Gerry and Joe Baker, their careers in football and their lives before and after stardom.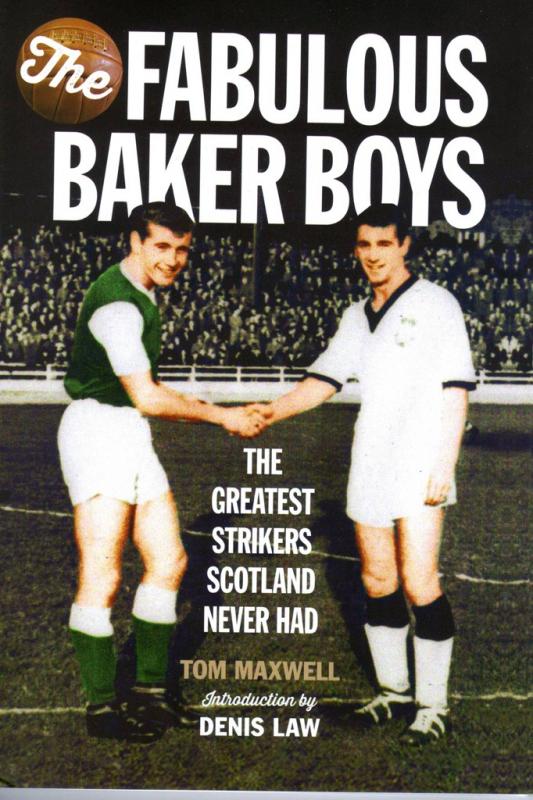 Born in New York State in April 1938 to an English father and Scottish mother, Gerry Baker would remember little of his time in the USA as when war broke out in Europe, his father George brought his wife and son back to the UK and they settled initially in Liverpool. George went off to war leaving his pregnant wife at home and in July 1940, Joseph Henry Baker entered the world to a background of falling bombs and explosions. The Nazis targeted Merseyside making it a dangerous place to live and so within a few weeks of Joe's birth the Baker Boys moved north with their Mum and took up residence in Wishaw at the home of their grandmother.
A few years on and the war was over. Gerry and Joe were at primary school and Gerry quickly won a place in the school football team. In time, Joe would join him but only after a lot of persuasion by his older brother. Joe, it seems, wasn't really all that interested in football! Even when he did start playing, with all the kids on his estate, he preferred being goalkeeper!
At 12 years old, Joe went along to Fir Park, Motherwell to watch a match where Hibs were the opponents and he fell in love with the green and white shirts of Hibernian. Little wonder when Hibs thumped their hosts 7-3 with Gordon Smith and Lawrie Reilly in particular catching the youngster's eye.
In the meantime, Gerry was catching the eye of club scouts and before long he was on his way to London to sign for Chelsea, Joe and an Uncle accompanying them on the journey. At the Chelsea training ground a bounce match saw Gerry score twice, only to be somewhat upstaged by 14 year old Joe who scored three! There had been a man short and Joe was chucked a pair of borrowed boots and asked to make up the numbers. Needless to say, Chelsea manager Ted Drake wanted Gerry to sign and promised to keep an eye on Joe who was too young to sign for the club. Sadly, Gerry just couldn't settle and returned to Wishaw, homesick as much as anything else.
Taking his football a little more seriously now, Joe was banging in goals for fun when playing for his senior school and boys club. A Scotland Schoolboy Cap soon followed and though Joe didn't know it he had seriously impressed a gentleman by the name of Davie Wyper who just happened to be the chief scout of Hibernian FC. Signed on provisional forms, Joe made an early impression by scoring four times in the one game for Hibs A against Armadale Thistle. Farmed out to Coltness United, Joe scored 40 goals and was further farmed out to Armadale Thistle where he scored a staggering 52 goals. Now 17, he was taken on to the playing staff and the rest is history.
As to Gerry, his route to Easter Road was a bit more circuitous. He joined Motherwell once a fee had been agreed with Chelsea but appeared only eleven times for the Steelmen, scoring four goals. On next to St Mirren where he managed eighty one appearances, sixty six goals and a Scottish Cup winners medal when over 100,000 fans packed into Hampden to witness Gerry score the last goal in a 3-1 win. He went on to play for Manchester City, Hibs, Ipswich Town and Coventry City while also appearing seven times for the USA, scoring twice.
Younger brother Joe of course started his career with Hibs before being sold to Torino in Italy. From there it was back to the UK with Arsenal, Nottingham Forest, Sunderland, Hibs again and Raith Rovers. In his professional career, Joe played 615 games and scored 372 goals – stunning by any standards. Of course Joe also played for the country of his birth, winning five Under 23 and eight full caps, scoring seven goals in the process.
This short review is offered as a taster for what is a fantastic book, full of little anecdotes, quotes from family and friends of the brothers as well as some excellent testimonials from former team mates the world over. Even if you never witnessed either Baker play, this is a book for fans of all ages and brings to life the wonderful story of the fabulous Baker Boys.
Birlinn £14.99