1970/1971 was unique as far as the club programme went. There were no less than 4 different prices on the cover over the season. As well as changing from the 'old money' format of pounds shillings and pence to decimal, there was a slight price increase. It started off in August 1970 with a cover price of 6d and went decimal in March of next year with a direct conversion to 2½p. It was only 2½p for a single issue, though, before the price was increased to 3p for the rest of the season. The issue for the Fairs Cup tie with Liverpool cost a shilling which was a special edition at that one-off price.
We also changed managers in December of 1970. Willie MacFarlane was in charge until just before that Inter-Cities Fairs Cup 3rd round tie with Liverpool. New owner Tom Hart had overruled MacFarlane's team selection and sacked Willie just before the European tie. Hibs, under new manager Dave Ewing, lost that first-leg match at Easter Road 0-1 (0-2 in the return) and we can only speculate upon what might have happened had MacFarlane still been in charge. Hibs finished the season 12th in a top-flight league of 18 teams.
Willie MacFarlane's time as boss should be noted for his contribution towards the famous 'Turnbull's Tornadoes' era. His first signing for Hibs was Erich Shaedler and he also brought Arthur Duncan to Easter Road. His inspired moving of John Brownlie from central defence to an attacking full-back reaped rewards. Willie also played for the club in the 1950s as a full back when The Famous Five were featuring in the green & white.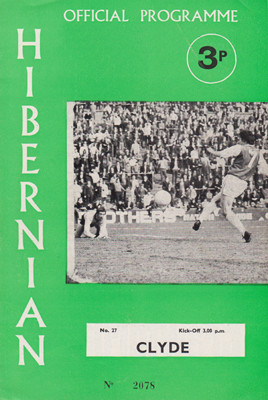 For the featured programme, I've chosen the issue from the last league game of the season for our encounter with Clyde on Saturday, 24th of April 1971. The cover picture shows Johnny Graham scoring against Airdrie in the previous home match which we won 3-1. Joe Baker and Jimmy O'Rourke had provided the build-up.
A paragraph on page 3 states;
"
Hibs fans got a shock at East End Park last week when it was announced that Eric Shaedler would lead the attack in place of unfit Joe Baker.
manager Ewing felt Schaedler would be a good choice against the powerful Cushley and the left back gave the Dunfermline pivot a busy afternoon.
Joe was suffering from a poisoned foot which flared up suddenly on Saturday morning.
Another Dunfermline casualty was Eric Stevenson who hurt his leg in the first half and, eventually, retired before the end.
Alex Cropley's long range equaliser in the closing minutes meant that Hibs have gone five years without defeat in League games at East End. In that period, they have picked up eight points. [S2k note: 2 points for a win and just one away game in those days]
Jimmy O'Rourke was the scoring kingpin with a double - just reward for his hard work. Indeed, all three goals came from dead ball moves.
"
The record of the previous match at Easter Road appeared on page 6 as follows;
Saturday, April 10 - Hibernian 3 (Baker 2 and Graham). Airdrie 1 (Busby)
Hibernian
- Baines; Brownlie and Jones; Blackley, Stanton and Pringle; Graham, O'Rourke, Baker, Cropley and Stevenson.
Airdrie
- McKenzie; Jonquin and Caldwell; Menzies, Goodwin and D. Whiteford; J. Whiteford, Cowan (McKinley), Busby, Jarvie and Wilson.
Referee
- W. Anderson, East Kilbride.
Each issue had a unique number printed on the lower cover page and this was your 'ticket' to enter the "Lucky Programmes" draw. Winning numbers were announced over the loudspeaker at half time as well as being paraded around the perimeter track on a board.
The prizes for the Clyde match were as follows; 1st £7, 2nd £2 and 3rd £1.
As for the game, well Hibs won 5 goals to 1 and was notable for the fact it featured Jimmy O'Rourke's first League hat-trick. Two of his goals were from the penalty spot but a hat-trick is a hat-trick! John Hazel and Joe Baker scored the others.
The team lined-up thus; Baines, Brownlie, Schaedler (Pringle sub), Blackley, Stanton, Hazel, Graham, O'Rourke, Baker, Cropley and Stevenson.