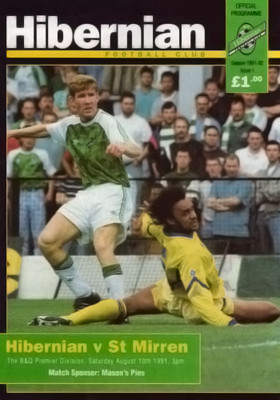 When I picked up the morning paper one day in 1991 and started as ever with the back page I was totally shocked to read that Hibs had sold striker Paul Wright to St. Johnstone. It may well have been that he'd only scored six goals that season but he was still our top scorer and I was left wondering just where the goals might come from to help us fight off relegation. Thankfully my concerns didn't last long as only a matter of days later Hibs swooped to sign Keith Wright from Dundee. Same surname but a totally different kind of player to the departed Paul.
Ironically, Keith had been an "S" form signing at Easter Road as a kid but somehow he slipped through the net and was released. From there he went on to play for Melbourne Thistle, scoring lots of goals and before long Raith Rovers snapped him up and pretty much stuck him in the first eleven from the off. It's safe to say that he was a sensation for the First Division Starks Park outfit as he bagged 61 league goals in only 127 starts and it was inevitable that a top club would soon be sniffing around. At the end of 1986 he signed for Dundee and paired up in their attack with the prolific Tommy Coyne, scoring 62 goals in 167 starts including a few against Hibs!
As a youngster Keith had been a Hibs fanatic, watching from the terracings and even helping organise buses to away grounds and so when Alex Miller signed him up at Easter Road in July 1991 it was a dream come true for "Ted."
In his first season he scored 17 times for Hibs including at least once in each of the Skol Cup ties that saw Hibs winning that trophy by beating Dunfermline 2-0 at Hampden in front of a reported 35,000 Hibs fans including dot nets
HalifaxHibs
who recalls
"My first ever game was the 91 Skol cup final, Keith Wright scored that day and as a 10 year old I thought he was great!"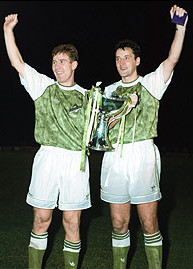 Indeed Keith was great but not just as a player. He was and remains a thoroughly decent bloke both on and off the park. Having met him a number of times I can guarantee that the label of "Billy Big Time" will never be attached to his name. As Leitrim Hibee says
"Met him at a Hibs Kids open day when I must've been around 5 or 6, and he posed for a photo, signed my newly-won-in-the-raffle-that-afternoon autograph book and was just such a lovely guy. As a young impressionable wee lad, who wanted to score goals and was subconsciously looking for a role model, I chose Keith. I got #9 on the back of my shirts because that was Keith's number, and having met him a few times since, was glad to see that he was indeed a lovely guy and it hadn't been my youthful naivety. His goals and his demeanour are probably a lot to do with why I fell madly and irrevocably in love with Hibs, more so than I would have as a result of family ties etc."
I suspect that I wasn't the only one who was upset that he managed just one Scotland Cap when he played in a friendly international against Northern Ireland but it was a sign of the times in that it didn't matter if you were playing really well as you didn't play for one of the Old Firm. Actually I was also upset in 1997 when Keith moved on by rejoining Raith Rovers but I'm so very glad he had those few years at Hibs because it allowed him to realise a boyhood dream and frankly no-one was more deserving of doing so. It also allowed us to watch and enjoy as he played 219 times and scored 76 goals meaning that he was/is indeed a Hibernian Legend.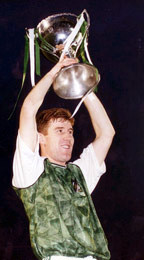 Credit to both
www.iHibs.co.uk
and
Jim Jeffrey's 'Hibernian FC Since 1946'
where some of my research was obtained for this article.