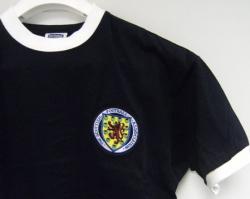 The final part in the trilogy of articles highlighting those Hibs players called to play for Scotland.
Lawrie Reilly
Born in 1928 within viewing distance of Tynecastle Lawrie Reilly was born into a Hibs mad family and grew up to be one of the greatest Hibees of all time. From the earliest age Lawrie could be found with a ball at his feet and was soon banging in goals wherever he went. North Merchiston and Edinburgh Thistle enjoyed his talents until Hibs snapped him up in 1947 and there would be no other club for the centre forward who spent his entire career at Easter Road. His first team exploits began with him on the wing but soon he would grab and keep the number nine jersey, scoring 187 goals in 253 League appearances together with countless goals in cup ties and an impressive number for his country with 23 in 38 appearances.
Part of the legendary Famous Five Lawrie was nicknamed 'Last Minute Lawrie' in a newspaper and the name seemed to stick although Reilly himself never took to it as he rightly argued he scored many goals which were nowhere near the last minute! That nickname came as a result of four 89th minute goals in Scotland games but as his record will show Lawrie was right about scoring at all times in games! The more popular cry from Hibs fans, as immortalised in the club song 'Glory Glory to the Hibees' was 'Gie the ba' tae Reilly' an understandable encouragement given his prowess in front of goal! Illness and injury brought Lawrie's career to a premature end in 1958 but he can still be seen at Easter Road every home game hosting a table in the hospitality suite.
Lawrie Reilly won thirty eight Scottish caps
Alan Rough
Over the years Hibernian has been served by a number of top quality goalkeepers and Alan Rough certainly falls into that category. Born in Glasgow in 1951 Alan started his professional career with Partick Thistle where he made over 400 appearances before joining Hibs in November 1982 for the bargain fee of just £60,000. Instantly a hit with the fans Roughy won just as many games for Hibs as any of the strikers in his almost 200 starts. After leaving Easter Road he had spells in America and then with Celtic, Hamilton and Ayr before moving into junior football where he managed Glenafton Athletic for a while before becoming a radio pundit and after dinner speaker of some note.
Alan Rough won fifty three Scottish caps.
Erich Schaedler
Born in Biggar in April 1949 Erich Schaedler was the son of a former German POW who had been held at Biggar, stayed on after the war and married. His football career began with Peebles Rovers and from there he moved to Stirling Albion where his Manager was Willie MacFarlane who moved to Hibs and took Erich with him. 'Shades' was a left back who always gave 100% for the jersey. Super fit he was part of the Turnbull's Tornadoes side of the early 1970's and won a League Cup Winners medal with Hibs. From Easter Road he moved on to Dens Park and is still revered by those Dundee fans who saw him play for the Dark Blues. A second spell with Hibs followed and then a final move to Dumbarton in 1985.
Erich Schaedler won a single Scottish cap
Alex Scott
Alex Scott was born in Falkirk in November 1936 and was in the Rangers first team by the time he was 18 after joining them in March 1955. Four League Championship winning medals preceded a move to Everton in 1963 where he won both League and FA Cup medals. In 1967, at the age of 31 he returned to Scotland, signing for Hibs where he managed only around twenty appearances before leaving for Falkirk where he ended his playing career. As will be seen, Alex's brother Jim also played for Hibs though the two were never at Easter Road at the same time.
Alex Scott won sixteen Scottish caps
Jim Scott
Like his brother Alex, mentioned above, Jim was born in Falkirk some four years after his sibling, in 1940. In 1958 Hibs signed Jim from Bo'ness United and he would go on to exceed 200 appearances and 50 goals for the greens before being sold to Newcastle United in August 1967. Whilst at Hibs he had been a regular goal scorer and actually hit four in one game against Alloa in September 1965 when the Wasps were 'stung' 11-2. With Newcastle Jim won a Fair Cities Cup medal in 1969 before moving on to Crystal Palace and finally Falkirk.
Jim Scott won a single Scottish cap
Davie Shaw
Davie Shaw was a real Hibs hero who was equally comfortable in either fullback position and was at left back with Jock Govan on the right as Hibs secured the 1947/48 League Championship. A former miner who was playing for Grange Rovers before signing up at Easter Road in 1939 he went on to sign for Aberdeen, joining them in 1950 and retired from the playing side in 1953 and went on to coach at Pittodrie until 1967.
Davie Shaw won nine Scottish caps
Ronnie Simpson
Goalkeeper Ronnie Simpson had an astonishing start and end to his career and the bit in the middle was pretty special too! At just 14 years of age he made his debut for Queens Park and at 16 he played his first ever League match against Hibs in August 1946. After five years at Hampden he moved to Third Lanark where a string of fine displays earned him a transfer to Newcastle United. Whilst on Tyneside he won two FA Cup winner's medals and the adulation of thousands of supporters in the process. In October 1960 he moved to Hibs but the arrival of Jock Stein at Easter Road marked the departure of Simpson, for Parkhead where of course he joined up with Stein again and kept goal when Celtic won the European Cup in 1967. Although now in the twilight of his career he was picked to play for Scotland at the ripe 'old age' of 36! After hanging up his gloves he managed Hamilton for a spell before turning his full attention to his thriving sports shop in Edinburgh's Rose Street.
Ronnie Simpson won five Scottish caps
Gordon Smith
Since 1875 many great footballers have worn the emerald green and white of Hibernian whilst generations of fans have watched legends in the making. The early days saw 'Darlin Willie Groves' set the trend whilst others have followed down the years but arguably the greatest Hibernian legend in living memory was Gordon Smith. Lawrie Reilly, a legend in his own right, describes Smith as 'Quite simply the best football player I have ever seen' and it is hard to argue with someone who speaks from a position of great knowledge.
Smith joined Hibs as a raw 16 year old in 1941 and remained a stalwart at the club until 1959. Raw he may have been but a debut hat trick in a 5-3 win at Tynecastle certainly caught the attention of the fans! An Edinburgh lad, born in May 1924, he was spotted by Hibs Manager Willie McCartney when playing against Hibs for a Junior Select against a Hearts/Hibs select. The Gorgie outfit wanted him but insisted only on trial initially but McCartney had seen enough to know a trial was not required and Gordon went on to make over 500 appearances* for Hibs scoring 170 goals along the way. He also won three League Championship medals and was outside right in the Famous Five team which became the first British Club to compete in the European Cup, reaching the semi final.
Many tears were shed on the Easter Road terraces when Gordon was inexplicably allowed to leave on a free transfer in 1959. The official line was that his injuries were of concern but Gordon never subscribed to that view and went on to prove those responsible wrong by winning Championship medals with both Hearts and Dundee – the only player ever to win such with three different Clubs.
* Wartime appearances were not included in official statistics and therefore Gordon is not officially the record holder for the number of appearances for Hibs, that honour falling to Arthur Duncan.
Gordon Smith won nineteen Scottish caps
Pat Stanton
If 'Darlin' Willie Groves was the first Hibernian legend and others like James McLaren, Jimmy Dunn, Lawrie Reilly and Gordon Smith carried on the tradition then another name which deservedly joins those who went before is surely Pat Stanton. 'Niddrie' was born in September 1944 into a Hibernian household in that he was a descendant of Michael Whelahan, a founder member of the Club back in 1875 and a long line of Hibernian supporting Stanton's had preceded him.
Signed by the club in 1961 Pat was initially farmed out to Bonnyrigg Rose where he certainly toughened up physically before being brought 'home' in 1963 to Easter Road where he would be both inspirational as player and captain until 1976. A wonderful performer either in defence or midfield Pat was a cornerstone of the Turnbull's Tornadoes side of the early 1970's and ran the show at Tynecastle on 1 January 1973 when Hibs demolished Hearts 7-0 to go top of the League. He also captained Hibs to a League Cup Final victory over Celtic where he scored in the 2-1 win.
In 1976 Pat reluctantly left Hibs to join Celtic where he won both League Championship and Scottish Cup winner's medals before hanging up his boots and moving into coaching as Alex Ferguson's assistant at Pittodrie. A longing to manage in his own right took Pat to Central Park, Cowdenbeath but after just 17 games he was snapped up by Dunfermline where he stayed for two years until answering the call to return to his spiritual home, Easter Road, to manage the side he had supported and played for. In his time at Easter Road he brought through a number of good youngsters, such as John Collins, Gordon Hunter and Mickey Weir but after two years in the hot seat he left when the then Chairman refused to support him in a dispute with the SFA.
Pat can still be found at Easter Road for every home game, hosting a table in the hospitality suites and fans who enjoy his company on those match days never fail to be impressed.
Pat Stanton won sixteen Scottish caps
Colin Stein
Stein was born in the West Lothian town of Linlithgow in 1947 and joined Hibs from Armadale Thistle in 1965. A centre forward and natural goalscorer he was soon a hero for the Hibs fans but not so popular with referees who didn't take to his bustling style of play and tendency to have his say during games. A record of 40 goals in just 69 league outings proves the man knew the way to goal and in October 1968 he joined Rangers for the then record setting transfer fee of £100,000 with Joe McBride arriving from Celtic to replace him. As often seems to be the way when players move to opposition clubs within the same league it was no surprise when he scored a hat trick on his debut, against Hibs. Stein had two spells at Ibrox and also turned out for Kilmarnock and Coventry City during his playing career whilst for his country he went on a six game run scoring in each, with four in one game being the highlight.
Colin Stein won twenty one Scottish caps
William Toner
Willie Toner joined Hibs late in his career and managed only a few appearances in his two seasons at the club. A centre half he was playing with Queens Park when Dundee took him to Dens Park until May 1951 when he moved south to Sheffield United. Whilst with the Blades he won a Second Division Championship medal before returning north, to join Kilmarnock where he appeared in two Scottish Cup Finals before leaving for Hibs in 1962. Willie's son Kevin was once a Grade One SFA referee.
Willie Toner won two Scottish caps
Eddie Turnbull
Falkirk born Eddie Turnbull is another of those players who fully justifies the tag of legend. Joining Hibs in 1946 from junior football his impressive play soon won him a place in the first eleven where his midfield play displayed both skill and aggression. Possessed of a thunderbolt shot he had many opposing goalkeepers quaking in their boots and in one match against Celtic in February 1950 he bagged all four goals in a stunning 4-1 Scottish Cup win. At inside left he complemented the wing play of Willie Ormond on one side and the central striking role of Lawrie Reilly on the other. With Hibs he won three League Championship medals and captained the side in its Famous Five heydays.
After he finished playing Eddie moved to Queens Park where his coaching skills were soon spotted by Aberdeen. Soon after joining the Dons he steered them to a Scottish Cup win in 1970 but just twelve months later he returned to his spiritual home of Easter Road where he created a side dubbed 'Turnbull's Tornadoes' because of the skill and flair with which they played. A League Cup win and regular European football followed before, in time, he left the game for good.
Eddie Turnbull won nine Scottish caps
Andy Walker
Born in Glasgow in April 1965 Andy Walker made his start in senior football with Motherwell where he soon proved himself to be a prolific goalscorer. His talents caught the eye of Celtic and he moved to Parkhead in July 1987, scoring 26 goals in his first season there. In January 1992 he moved south to Bolton Wanderers and again found the net on a regular basis with some 44 goals in just 67 games! Sheffield United would be his next port of call and it was whilst he was with the Blades that he spent a period on loan at Easter Road where he netted three league goals. After returning to Sheffield he made a permanent move north in 1998 when he signed for Ayr United and from there he played for varying lengths of time at Carlisle, Partick Thistle and Alloa. After hanging up his boots Andy became a football pundit working in radio, television and newspapers.
Andy Walker won three Scottish caps
Keith Wright
Keith could so easily have been the one who got away in terms of appearing for Hibs because he had been on the books as a schoolboy but hadn't at that time made the grade. His chance at senior football came with Raith Rovers where his strike rate of 61 goals in 127 starts caught the eye of Dundee and earned him a move to Dens Park in December 1986. Again the route to goal was found often and in July 1991 Alex Miller enticed him to Easter road for a reported fee of £500,000 and he went on to score in every round of the League Cup when Hibs lifted the trophy later that year. A massively popular player with the fans there was great sadness when his stay ended and he moved on to Raith Rovers and then Morton before joining Cowdenbeath as a player/coach and ultimately manager. Keith is now an SFA appointed football development coach with Midlothian Council.
Keith Wright won a single Scottish cap
Tommy Younger
A fine goalkeeper, Tommy Younger was born in Edinburgh in April 1930 and joined Hibs in 1948 from Hutchison Vale Boys Club. When he joined Hibs they were the major force in Scottish football and Younger kept goal in the side which won two League Championships after his arrival. In June 1956 Younger was transferred to Liverpool for a reported fee of £9000 and his time on Merseyside saw him gain popularity with the Liverpool fans. In 1959 he joined Falkirk as player/manager but a serious injury seemed to end his playing career soon after. Things were not as bad as first seemed however and Younger returned to a playing role when he joined Stoke City. A short stay in Canada followed before he returned to the Uk with Leeds United until he retired in October 1962. A successful businessman he joined the Hibs Board and went on to be Chairman of Hibs and President of the SFA, the latter office held until his death in January 1984.
Tommy Younger won twenty four Scottish caps