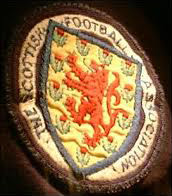 The second part in a trilogy detailing those Hibernian players who were capped for Scotland.
Bryan Gunn
Born in Thurso in 1963 Bryan Gunn began his professional career with Aberdeen in 1980 but managed just 21 first team games as he fought for the number one jersey with Jim Leighton. In October 1986 Norwich City paid £100,000 for his services and Gunn became something of a hero with the Carrow Road faithful. In his ten years with Norwich he made 477 appearances and kept goal for the Canaries in the 1993/94 UEFA Cup Final. In February 1998 he left Norwich and joined Hibs but made only 12 appearances. Gunn is now the Commercial Manager of Norwich City
Bryan Gunn won six Scottish caps
Willie Hamilton
Willie Hamilton played just 75 times for Hibs but managed to score 26 goals in the process. A player of immense talent he is still spoken of to this day and Hibs fans who were fortunate enough to see him perform will tell you he was a footballing genius, a claim backed up by the late Jock Stein who is on record as having described Hamilton as the best player heíd ever seen. His first senior Club was Sheffield United where he signed in 1956. Five years later he moved on to Middlesbrough but failed to settle and in June 1962 he joined Hearts where he was outstanding in a side which won the Scottish League Cup. A complicated soul Willie lost his way a little but was rescued to the game when Jock Stein signed him for Hibs in October 1963.
Tragically Willie Hamilton won just a solitary Scottish cap
Joe Harper
In the early 1960ís a wee 15 year old laddie was banging the goals in for Larkfield Boys Club and was promptly snapped up by Greenock Morton. Four years and many goals later he was transferred to Huddersfield Town for a reported fee of £45,000 but he was unhappy there and soon returned to Morton. His second stint at Cappielow was not lengthy and as the 1960ís neared their end Harper moved north to sign for Eddie Turnbullís Aberdeen. Soon he achieved legend status with Dons fans and drew the attention of big English clubs with his goalscoring exploits. In 1972 he joined Everton for £180,000 and was top scorer in his first season. Just 18 months later however he was to link up with Turnbull again only this time at Easter Road where he stayed until his return to Aberdeen in 1976
Joe Harper won four Scottish caps
Paul Hartley
Born in Glasgow in October 1976 Hartley has been a bit of a late developer on the international front. His professional career began at Hamilton in September 1994 and from there he moved to Millwall where he stayed for just 13 months before heading north again to join Raith Rovers. Playing predominantly as a winger in those days his next port of call was Easter Road in December 1998 but he was on the move again by July 2000 when he joined St. Johnstone. Now playing in an attacking midfield role his career flourished again and he joined Hearts in June 2003.
Paul Hartley won nine Scottish caps
Jim Herriot
A man of many clubs Jim Herriot started his professional career with Dunfermline in October 1958 and played well over 100 games for the Pars before he left in May 1965 to join Birmingham City for a reported fee of £18,000. Herriot was plying his trade with Durban City in South Africa when Eddie Turnbull enticed him back to Scotland where he joined the Hibs team dubbed Turnbullís Tornadoes in the early 1970ís. A couple of quirky facts about the keeper are that he always blacked under his eyes, claiming it would reduce glare from the sun or floodlights and the author Alf Wright decided to use the name James Herriot for his famous ďAll Creatures Great And SmallĒ book and TV series after watching the goalie in a televised match!
Jim Herriot won eight Scottish caps
Hugh Howie
Born in Glasgow in February 1924 Hugh Howie was a defender capable of playing either full back or centre half. He joined Hibs directly from Newton Juniors in 1943 and never played for any other team, retiring in 1954. Howie was a member of the Hibs side which won three League Titles and played behind the Famous Five. After retiring he began a career as a journalist but was tragically killed in a road traffic accident in January 1958.
Hugh Howie won a single Scottish cap
Willie Hunter
Willie Hunter came to Hibs late in his career but was still a quality footballer having been a star in the Motherwell midfield of the mid 1960ís where amongst others he played alongside Ian St. John. Signed from Detroit Cougars of the USA he was a steadying influence to many of his young Easter Road team mates. Upon leaving Hibs he played for a while in South Africa before returning to the UK to coach at Portsmouth
Willie Hunter won three Scottish caps
Darren Jackson
Darren Jackson was born in Edinburgh in July 1966 and started his professional career with Meadowbank Thistle in August 1985. From Thistle he moved to Newcastle in October 1986 for a reported fee of £60,000 and had just over two years with the Geordies before signing for Dundee United in December 1988. After a three and a half year stint at Tannadice he joined Hibs in July 1992 and played over 200 games in his 5 years at Easter Road. In July 1997 he was transferred to Celtic and from there on to Hearts and St. Johnstone. Jackson is now a football agent.
Darren Jackson won 28 Scottish caps
Leslie Johnstone
Born in Glasgow in August 1920 Johnston was a forward who had many clubs during a long career. He started off at Clydebank Juniors and moved from there to Clyde in December 1941. In February 1947 Hibs paid a record fee of £10,000 for his services but he did not settle at Easter Road and was sold back for the same fee in October of the same year. Twelve months later he moved to Celtic for another record fee, £12,000 but stayed only a year before being transferred to Stoke City where he remained for six years before finishing his professional career in season 1953/54 with Shrewsbury Town.
Leslie Johnston won two Scottish caps
Bobby Johnstone
Bobby Johnstone was born in Selkirk in September 1929 and made his debut for Hibs in April 1949 which coincidentally was the first occasion on which the Famous Five played together. ĎNickerí as he was known to team mates and fans alike was an integral part of a League Title winning team but left Hibs in 1955 when Manchester City paid £22,000 for his services. Whilst at Maine Road Johnstone scored in both a winning and losing FA Cup team. Following a brief return as a player to Easter Road he joined Oldham Athletic in October 1960, was an instant success and played over 150 games, scoring 40 goals for the club before he retired from playing in the summer of 1965. Whilst with Hibs Johnstone scored over 100 goals including four in one game against Airdrie in August 1947
Bobby Johnstone won seventeen Scottish caps
Jim Leighton
Born in the Renfrewshire town of Johnstone in July 1958 Jim Leighton began his career with Aberdeen making 300 appearances in a ten year spell before being sold to Manchester United in 1988 for a reported fee of £450,000. Leighton had four years at Old Trafford before suffering a loss of confidence which saw him released and snapped up by Dundee. Things did not go well at Dens Park and he was languishing in the reserves when Alex Miller persuaded him to come to Easter Road and his career was kick started as he became a great favourite with the Hibs fans. His Scotland career, which had floundered, was resurrected during his three years with Hibs but he left in 1996 to re-join Aberdeen where he remains the goalkeeping coach.
Jim Leighton won ninety one Scottish caps
Lawrie Leslie
Lawrie Leslie was born in Edinburgh in 1935 and came into a young Hibs team in 1958. Leslie was voted man of the match in one particular Derby game at Tynecastle which Hibs won 4-3 and he earned that award with a spectacular display, beating Joe Baker who notched all the Hibs goals! Transferred to Airdrie he was not long between the sticks at Broomfield before West Ham snapped him up in 1961 and he was voted Player of the Year for the Hammers in his first season. From London he moved to Stoke City, then back to London with Millwall and he was a popular player at both clubs.
Lawrie Leslie won five Scottish caps
Alex Linwood
Alex Linwood was born in Glasgow in March 1920 and made his St. Mirren debut in January 1939 and went on to score a total of 168 goals for the Buddies before being transferred to Middlesbrough where he was less prolific. Soon he was heading north again and had a spell with Hibs but didnít produce the hoped for goals and was moved on to Clyde and then St. Mirren before ending his career in Ireland. His downfall at Easter Road was that he played there during the reign of the Famous Five and was unlucky in that regard. He once scored a hat trick in an 8-0 win over Third Lanark but hardly anyone noticed because the other five goals were scored by Gordon Smith! Poor man never stood a chance!
Alex Linwood won a single Scottish cap
John MacLeod
Johnny MacLeod was born in Edinburgh in November 1938 and signed for Hibs from Armadale Thistle in 1957. A devastatingly quick and tricky winger MacLeod was often the provider of goals to a young Joe Baker whilst bagging a fair few for his self. After 85 appearances and 28 goals MacLeod was transferred to Arsenal where he played for four seasons, made 101 appearances and scored 23 goals. In 1964 he moved to Aston Villa and had four seasons at Villa Park before transferring to Mechelen in Belgium and after three seasons there he returned to Scotland with Raith Rovers.
Johnny MacLeod won four Scottish caps
Murdo MacLeod
Murdo MacLeod was born in Glasgow in September 1958 and began his senior career with Dumbarton in 1975. After four seasons at Boghead Celtic snapped him up and he would go on to become a very firm favourite with the Parkhead crowds in his nine seasons at the club before being transferred to Borussia Dortmund in June 1987. After a hugely successful spell in Germany MacLeod returned to Scotland and signed for Hibs in October 1990 as both player and assistant (to Alex Miller) manager. In July 1993 he returned to Dumbarton and then on to Partick Thistle where he made just one appearance before retiring from playing. MacLeod is now a football pundit on radio and a successful after dinner speaker.
Murdo MacLeod won twenty Scottish caps
Neil Martin
Neil Martin joined Hibs from Queen of the South in 1963 and soon became a huge favourite with the fans by scoring an astonishing 53 goals in just 65 games with a liberal helping of hat tricks amongst that number. Deadly in the air his goalscoring prowess soon caught the eye of others and in 1965 he was transferred to Sunderland for a paltry £45,000 and scored 46 goals in 99 appearances. Thereafter he played for Coventry, Nottingham Forest, Brighton, Crystal Palace and St. Patrickís Athletic. Martin was the first player to notch up over 100 goals both north and south of the border. Following retirement he coached for 5 years in the Middle East before joining the management team at Walsall. Now back in Scotland he is a regular attender at Easter Road.
Neil Martin won three Scottish caps
Joe McBride
Born in Govan, a mere stoneís throw from Ibrox, Joe McBride began his career with Kilmarnock where he was a regular scorer until his transfer to Wolves for just £12,500. He failed to settle in the Midlands and was transferred to Luton Town but once again didnít find his form which led to a move back to Scotland with Partick Thistle and then on to Motherwell where he was top scorer for three consecutive seasons before Jock Stein snapped him up for Celtic in June 1965.
In an astonishing start to his Parkhead career Joe bagged some 78 goals in his first 77 matches and was an integral part of the Celtic side which took Europe by storm in 1967. Sadly for Joe, injury prevented him taking part in Celticís magnificent European Cup winning side and it was to be the beginning of the end of his Celtic career. Languishing in the reserves he was plucked from near obscurity by Hibs in 1968 to replace the departing Colin Stein who had attracted a then record fee between two Scottish clubs of £100,000. Although his goalscoring career at Easter Road didnít match the one gained at Parkhead he was a huge favourite with the fans and many were sad to see him go when he was transferred out to Dunfermline and then on to Clyde where he finished his career.
Joe McBride won two Scottish caps
Iain Munro
Born in Uddingston in August 1951 Iain Munro made his start in senior football with St. Mirren in 1969 before moving to Hibs in May 1973. A left sided player he could offer an option either at full back or in midfield. After three years at Easter Road he was transferred to Rangers before returning to St. Mirren until the end of his playing career.
Iain Munro won seven Scottish caps
John OíNeil
Born in June 1971 John started his career with Dundee United and then moved on to St. Johnstone before joining Hibs in the summer of 2000. A talented midfielder he flourished alongside the likes of Franck Sauzee and Russell Latapy and was the man responsible for scoring Hibsí Premier League goal. He also found the target when Hibs demolished Hearts 6-2 in October 2002 but by May 2003 he was on his way out of Easter Road and joined up with ex team mate John Hughes at Falkirk. From there he moved to up and coming Gretna and was a stalwart in their 2006 cup run where they unluckily lost to Hearts in the Final.
John OíNeil won a single Scottish cap
Willie Ormond
The only member of the Famous Five to have cost a fee when he joined in 1946 from Stenhousemuir Willie Ormond was an exceptionally talented outside left who played well over 300 times for Hibs and scored in excess of 130 goals. In his fifteen years with Hibs he was unlucky with injury, suffering leg breaks on no fewer than three occasions as well as a variety of other fractures and strains but he bounced back each time and the Hibs support counted him amongst their all time favourites, sad to see him leave for Falkirk in 1961.
Ormond started off on the managerial/coaching trail at Brockville and went on to manage St. Johnstone, who named a stand after him such was his success in Perth, Scotland, Hearts and Hibs. As Scotland Manager his record was very impressive and he took his side to Germany for the 1974 World Cup where they were undefeated even though they did not qualify for the second round stage. Hearts had his services from 1977 until 1980 when he joined Hibs but his time at Easter Road was short due to his ill health.
Willie Ormond won six Scottish caps
Jackie Plenderleith
Born in October 1937 Jackie Plenderleith joined Hibs in 1954 from Armadale Thistle. A no nonsense defender he played well over 100 games for Hibs before being transferred to Manchester City in July 1960. He would go on to make 41 appearances for the Maine Road outfit before leaving in 1962 to join Queen of the South. From Palmerston it was on to Cape Town City in South Africa.
Jackie Plenderleith won a single Scottish cap
Pat Quinn
Pat Quinn began his senior football career with Motherwell having joined them in 1955 from Bridgeton Waverley. A hugely talented midfield player Quinn played alongside Ian St. John in that Fir Park side of the late 1950ís and early 1960ís until he left to join Blackpool in 1962. Twelve months later Hibs splashed out £30,000 to bring Pat back to Scotland where he probed and prompted from the Hibs midfield to great effect. Goals were not a stranger to his game and his hat trick against Hearts at Tynecastle in October 1967 will long be remembered! After leaving Hibs Pat went on to be player/assistant manager at East Fife before hanging up his boots to concentrate on coaching which he did to good effect with Partick Thistle, Hibs, Motherwell and Hamilton Academical.
Pat Quinn won four Scottish caps