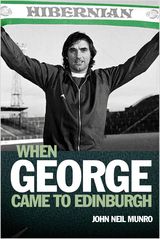 AS THE RECORD BOOKS CLEARLY SHOW
, season 1979/80 was a dismal one that ended in relegation for Hibernian Football Club but despite that fact there was reason to go and watch the men in green and white at every opportunity from November 1979 onwards as Chairman Tom Hart had pulled off a signing that when first revealed brought scornful reactions from the rest of Scottish football. In a move that shocked everyone to the core Tom Hart secured the signature of wayward superstar George Best and in doing so set the game in Scotland alight.
The story of Bestís Easter Road career is brilliantly told in a newly published book entitled
ĎWhen George Came To Edinburghí
with the author John Neil Munro delving into the archives as well as interviewing many of those involved with the club at that time, be they players, directors or supporters. Whilst many books have been written on Best there is relatively little mention of his time at Hibs and Munroís book firmly sets that to rights. Of course Best was considered by most within the game to be well past it in terms of offering the kind of magic so often on show when he played for his beloved Manchester United and to a large degree that was true but although not in the greatest shape physically his footballing brain was as alert as ever and so Tom Hartís gamble proved a good one although there would be a few hiccups along the way.
When George arrived Hibs were firmly rooted to the bottom of the table and Manager Eddie Turnbull was under extreme pressure from the fans who could scarcely believe that the man who brought them the Tornadoes could allow this great club to sink so low. Of course the Tornadoes were long gone, other than Arthur Duncan and the fans were being forced to watch players like Bobby Hutchinson, Willie Murray and Colin Campbell Ė all good proís but not a patch on the likes of Stanton, Edwards and Gordon. As might be expected given the dismal start to the league season, crowds were dropping in numbers and on the Easter Road terracings of those days a few thousand sprinkled around barely offered any sort of atmosphere.
The arrival of Best brought Hibs right into the centre of the media focus and Tom Hart was delighted as thatís where he wanted his Hibs side to be whilst Bestís new team mates were initially unsure because it quickly became known that Hart was paying George £2,500 per game out of his own pocket whilst the likes of Ally MacLeod and Tony Higgins were on a tenth of that. Unrest was nipped in the bud when Hart agreed to double the win bonus for the other players but given their dismal form itís surprising the players accepted that offer!
If you ask any fan who followed Hibs at that time for their memories regarding Best they may well tell you he was a footballing genius whose mere presence ensured bumper crowds wherever he played. They may say that he was always a joy to watch in the colours of Hibs and that he was worth the admission money alone. I know thatís what some may think and say because my own memories are not dissimilar
BUT
itís only partially true and Munroís book tends to drag the reader back to reality, though not in an unkind way!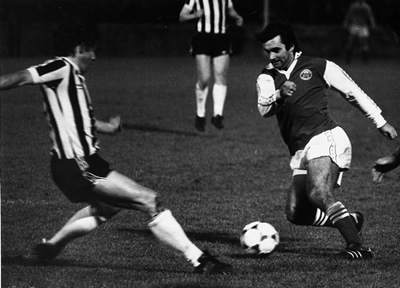 Bestís debut match came at Love Street and literally thousands of Hibs fans travelled through for the occasion. A pre Best match might have scraped an attendance around the 3,500 mark but on 24 November 1979 some 13,670 fans were on hand, many in green and white colours to watch the Buddies win 2-1 with George getting the Hibs goal. A week later he played his first home match when Partick Thistle visited Easter Road. Once again a pre Best fixture like this might have attracted around 4,000 fans but when the game kicked off there was a crowd of 20,622 with, it has to be said, a reasonable number of Edinburgh based fans of other clubs included in that number, such was the clamour to see Best in action as he helped his new team win 2-1.
In those first two matches there were numerous glimpses of vintage Best and although he cut a bit of a portly figure his mind was razor sharp and on occasion even too sharp for his team mates who failed to anticipate the pass George would make.
Of course George did go walkabout on occasion and failed to show when meant to be playing but the Hibs fans were generally very forgiving whilst Tom Hart tried hard to get Best to cut out the drinking binges. On one occasion George spent a whole night drinking with the visiting French rugby squad and needless to say was in no fit state to play the next day. The fact is that much of this was going on without the vast majority of Hibs fans knowing anything about it. There were no websites or messageboards to read and post the latest gossip and rumours and I can truthfully say that
When George Came To Edinburgh
has greatly enlightened me in terms of knowing what was actually going on with the man.
I mentioned earlier that memory tricks us into believing full houses were the order of the day but there were a number of games, both home and away that drew fewer than 5,000 through the turnstiles. Thankfully and from a purely selfish point of view Iím delighted to say that I was one of those that watched him in every game he played for Hibs, bar one which involved a midweek friendly at Filbert Street against Leicester City.
If you lived through the George Best years at Hibs then this book is a must for you to read. If you didnít then I still recommend it as a must because it details quite brilliantly When George Came To Edinburgh. His arrival and presence meant we had the best of times in the worst of times.
Published by Birlinn and retailing at £9.99
Visit:
www.birlinn.co.uk
for details