This Sunday marks a milestone in the history of Hibernian Football Club with the opening of their brand spanking new East Stand for the visit of current SPL champions Rangers and there seems sure to be a near capacity crowd despite the match being shown live on television. As usual the visiting fans will be located in the South Stand and as usual you can expect them to make one helluva racket in supporting their team but it is sincerely hoped that the creation of the singing section in the new East Stand will encourage all home fans to follow their lead in singing Hibs to victory. Itís a good innovation by the club and those fans who argued long and hard for the creation of the singing section can now get down to the business in hand with myself amongst their number!
As far as the game goes it will not be easy as matches against Rangers never are but following that fine win at Fir Park last Sunday the confidence will be high in the home dressing room and I feel Hibs have every right to think they can take all three points to continue their impressive SPL start. Much has been made of the fact that key players have left Ibrox and it remains to be seen whether James Beattie can fill the gap left by Kris Boyd when it comes to scoring goals. Itís a big ask because although Boyd was never the most mobile or energetic of strikers he certainly knew where the goals were.
Thankfully we have our own prolific scorer in
Derek Riordan
whose form going into this campaign is in my opinion his best yet in a Hibs shirt.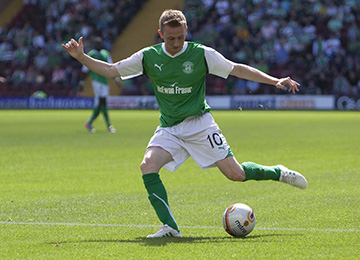 Often thought of as lazy and unbelievably more or less labelled as such by Scotland boss Craig Levein, Derek has been putting in some sterling shifts of late and surely no longer deserves to be tagged in such a way. Against Motherwell he was a livewire from start to finish having a hand in all three goals but also taking time out to put in a goal saving tackle early in the game when the Fir Park side was bossing possession. Perhaps Levein should have another look as itís not like we are blessed as a nation with loads of quality footballers.
Another key dual will be in the midfield area with Rangers adjusting to life without Kevin Thomson and Hibs enjoying a peak in the form of
Liam Miller
.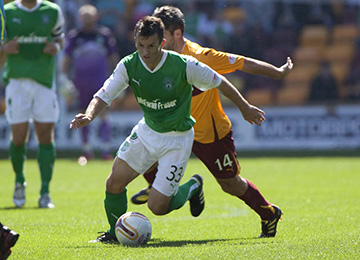 Against Motherwell he was everywhere and his energy and vision are a joy to behold when he is on form. Of course he gets the chance to play further forward when Kevin McBride is in the holding role and the introduction of Edwin De Graaf has also helped in that regard. The Dutchman may not have set the heather on fire but take a moment on Sunday to watch how well he reads the game and uses that to snuff out opposition attacks.
Up front we may or may not see Colin Nish in the starting line up with the big striker having a poor afternoon at Fir Park. Colin is not everyoneís cup of tea to say the least but heís been asked to play a role which is not natural to him in having his back to goal and although many think he is not Hibs class you can be sure that he will always give of his best. It canít be easy when things donít go right and the fans are instantly on your back.
Thereís been a rising clamour for Yogi to play Riordan and Stokes as a front two and in theory that sounds a good idea given the goal scoring prowess of that duo but in my personal opinion it probably wouldnít work as well as some suggest.
Stokes
took his goal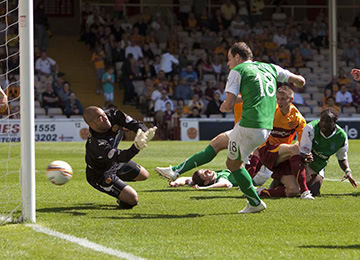 superbly last week in showing a strikerís poaching instinct to find so much room in the opposition six yard area but in open play I think both he and Riordan might not get so much possession. Iím thinking back to a World Cup qualifier when Scotland decided to play their most talented player as a lone striker against Norway. It failed miserably and James McFadden hardly got a kick. There is a real danger that Stokes and Riordan could suffer a similar fate if asked to play as out and out strikers. I know Derek keeps saying heíd rather not play wide left but I strongly believe that he sees far more of the ball there than he would if he was in a front two with Stokes.
It will be interesting to see which eleven Yogi starts with. It looks like Stack will be in goals and the back four will include Hart, Bamba and Hanlon but will there be a place for Chris Hogg I wonder? After what was a pretty public falling out at Fir Park Ė Yogi shouting at Hogg on a number of occasions and then the player running off right down the tunnel at the end Ė with the manager alluding to those exchanges in his post match radio interview. If Hogg is not selected then who might fill his role? Thicot has played there at Tynecastle and looked both calm and assured whilst young David Stephens has already shown that he can be a big player for Hibs although Yogi may feel a match against Rangersí Miller and Beattie is too big an ask for the kid, especially if Walter Smith can also secure the services of Slovakian Vladimir Weiss on loan from Manchester City.
As to the rest of the starting eleven I reckon it wonít be much different from the side that won at Fir Park although as suggested earlier there is a question mark over the selection of Nish. Whichever eleven Yogi selects you can be sure theyíll be subjected to his Ďtouchline encouragementí as the manager gets wholly engrossed in what is going on and uses his vocal powers to let everyone know what heís thinking. No-one is safe in that regard and it amused me to watch the manager having an exchange with the fourth official last week. Iíve no idea what was said but I can guess Yogi wasnít asking him how long there was to go!
This will be a tough test for Hibs but with a modicum of luck, a good and noisy backing from the fans and a referee who wonít be intimidated by the travelling hordes I think we can beat the Ibrox outfit and Iím going to predict a 2-1.
**Images courtesy of Alan Rennie \ Hibernian FC**