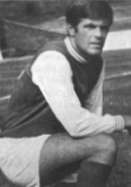 London Hibs Annual Burns Night Supper was held on Saturday 30th January 1999 at the Holyrood Pub, Wells Street, off Oxford Street, and a good time was had by one and all.
We were honoured with the presence of one of the most famous Hibs players from the past, Pat Stanton, who said a few words,

(click here to hear his speech in Real Audio format)

drew the raffle, and kept us entertained with his stories from the past.
Stuart Donald, our vice chairman made the (not so) traditional address to the haggis, and you can

hear this in Real Audio format by clicking here.

You can view larger versions of the thumbnails below by clicking on the individual photograph.