London Hibs Annual Burns Night Supper was held on Saturday 20th January 2001 at the William Wallace.
Our special guests this year were former Hibs players Peter Cormack and Peter Marinello.
The evening kicked off with the haggis being carried in by Kayleigh Garriock accompanied by the traditional piper. Stuart Donald, our vice chairman then made the (not so) traditional address to the haggis.
An audio version of his address is here (780K click here to get Realplayer - click on "download:realplayer", then scroll down to "Realplayer Basic" - it's free) (click here for top quality (3.9M Real Audio) version for cable modems / ADSL)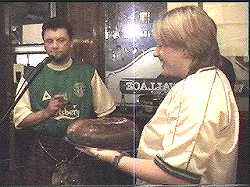 A video of Stuart's address can be seen here (click here for top quality (13.9M Real Video) version for cable modems / ADSL)
Playing throughout the evening were the excellent Shamrock and Thistle group.
Both our guests were introduced by our chairman Brian Rogan in his inimitable style, relating stories of their playing careers. These stories were embellished by the 2 Peters!
Brian introduces Peter Marinello (56k or 512k Cable/ADSL)
Brian introduces Peter Cormack (56k or 512k Cable/ADSL)
They then proceeded to help with the raffle. Peter Cormack also gave us a song (56k or 512k Cable/ADSL). Autographs were willingly given, including the one below. I believe the Hamilton Accies v Hibs game in 1980 is the only time I saw Peter Cormack play for Hibs. Check out Hibs No 11!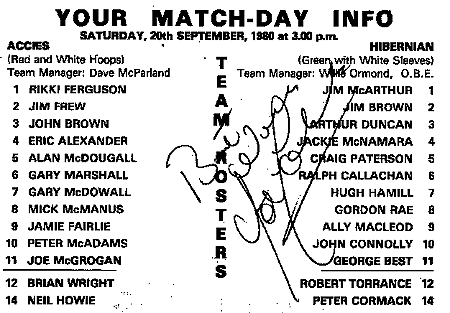 Picture Gallery
Select an image from the drop down menu
Coming soon, more photos, audio and maybe even some video of the evenings events.
Report by Mike Inglis